In today's Wall Street Journal I review the Mint Theater Company's off-Broadway revival of N.C. Hunter's A Day by the Sea. Here's an excerpt.
* * *
No drama troupe in America has carved out a more distinctive niche for itself than the Mint Theater Company. According to its mission statement, the Mint "finds and produces worthwhile plays from the past that have been lost or forgotten." These bland-sounding words disguise a refreshing originality of taste on the part of Jonathan Bank, the company's artistic director. Since I started reviewing the Mint a decade ago, it's presented, among many other memorable shows, Rachel Crothers' "Susan and God," Harley Granville-Barker's "The Madras House," John Galsworthy's "The Skin Game," N.C. Hunter's "A Picture of Autumn," George Kelly's "The Fatal Weakness," Jules Romains' "Doctor Knock" and John Van Druten's "London Wall." All of these plays were essentially unknown to contemporary American audiences before the Mint revived them, and all received superlative small-scale off-Broadway stagings that made convincing cases for their excellence. What other drama company, here or abroad, can make the same claim for its revivals?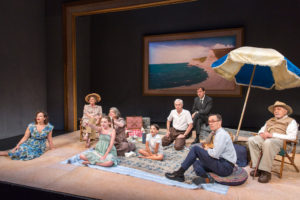 Now, though, the Mint has outdone itself with its latest effort, N.C. Hunter's "A Day by the Sea," for me the finest of the noteworthy plays that Mr. Bank has exhumed to date. It is, in fact, that rarest of rarities, a forgotten masterpiece, acted by the best ensemble cast I've seen in recent seasons and staged with taut vitality by Austin Pendleton. First performed in London in 1953, "A Day by the Sea" has only been staged once in New York, in 1955. Yet it's so good as to make you wonder how Hunter, who died in 1971, could have dropped off the map of English-language theater.
The answer, I fear, is that a critic did him dirty. Kenneth Tynan, who in the Fifties was England's most influential drama reviewer, attacked "A Day by the Sea" as "an evening of unexampled triviality…Mr. Hunter's pseudo-Chekhov is about as close to the real thing as an aspidistra to a woodland fern." Tynan favored the Angry Young Men of the British stage and had little use for plays without a political message, and "A Day by the Sea," a quiet character study written in the manner of Anton Chekhov, Hunter's avowed master, was just the sort of show that he longed to push out of London's West End. Even though the play's original production, which starred John Gielgud (who doubled as director) and Ralph Richardson, had a long run, Hunter's reputation never recovered from Tynan's slating.
To see "A Day by the Sea" at long last is to realize how absurdly wrong Tynan was. A portrait of a priggish, frustrated diplomat (Julian Elfer) and a widowed mother (Katie Firth) who have reached the near shore of middle age and wonder whether life has more to offer than they've had so far, it's trivial only if you think the lives of ordinary middle-class people are trivial….
Ms. Firth, a familiar face to fans of the Mint, and Mr. Elfer, who is new to me, are as good as they could possibly be, though no more so than the eight other members of the cast, all of whom give vividly drawn performances. As for Mr. Pendleton, he knows that the trick to making a play like "A Day by the Sea" work is to winkle out the laughs and let the pathos take care of itself…
* * *
Read the whole thing here.
A video clip from the dress rehearsal of A Day by the Sea: