I have yet to see Best of Enemies, the film documentary on the William F. Buckley, Jr.-Gore Vidal TV debates, originally telecast by ABC in 1968, about which acres of windy prose have lately been published. Nor do I plan to seek it out, since the point of the film is the debates themselves, large chunks of which can be viewed on YouTube. It happens, however, that I was just asked to review a new book about Vidal, so I thought it would make sense to take a look at some of the debates, which I didn't see at the time (my parents favored CBS).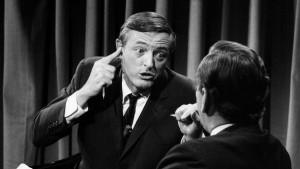 Watching the Buckley-Vidal debates now, I'm struck by the fact that both men had ornate, oddly similar mid-Atlantic accents (though Vidal's, if his earlier TV appearances are any indication, was feigned). Hearing them snipe at one another is like listening to Richard Dimbleby reading the news on the BBC. Can you imagine two men with similar accents jointly appearing on network TV nowadays in any context other than that of a comedy series? It's hard to conjure up a more telling illustration of how radically American culture has changed in my lifetime, though I find it scarcely less amazing that an hour-long documentary on the Louvre narrated by Charles Boyer had been shown in prime time on the very same network just four years earlier.
On the other hand, we're as far away in time from The Louvre and the Buckley-Vidal debates as the 1968 nominating conventions were from the presidencies of Woodrow Wilson and Warren G. Harding. To put it another way, we're as far away in time from The Carol Burnett Show as that program (which I did watch as a boy, devotedly) was from Charlie Chaplin's The Kid, which was at least as important to American comedy in 1921 as Burnett's series was in 1968.
Time, it seems, started speeding up in the twentieth century, and it shows no signs of slowing down in the twenty-first—though it goes even faster for those who, like me, are gradually running out of it. I've lived long enough to see Bill Buckley and Gore Vidal give way to Bill Maher and John Oliver, just as Carol Burnett has given way to…what? Best Time Ever with Neil Patrick Harris, I suppose, which says all you need to know about the yawning chasm that separates my youth and middle age.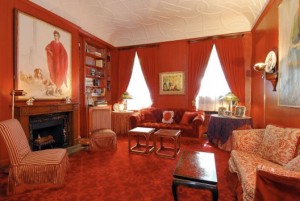 I never met Vidal and had no wish to do so, but I was acquainted with Bill Buckley. Outside the world of art, he is one of only two people of indisputable historic significance whom I have known at all well. We met not long after I moved to New York in the spring of 1985, and I never quite managed to stop being astonished by the fact that I knew him, not merely because he was important but because he lived in a manner more luxurious than I could easily comprehend. (He is the only person I have ever known who once sent his chauffeured limousine to bring me back to a party.)
I didn't realize when we met that Bill's lifestyle—a word he would surely have hated—was as much a thing of the soon-to-be-past as any of the characters in the novels of Edith Wharton or Louis Auchincloss, but I understood it well before his death in 2008. I marvel that I somehow managed to catch a glimpse of his privileged corner of the world before it, too, vanished.
On the same day that I watched the Buckley-Vidal debates on YouTube, I heard that the New York Daily News had laid off Jim Farber, its pop-music critic, shortly after the New Orleans Times-Picayune announced that it was shutting down its entire music department. Again I felt the moving sidewalk of life accelerating beneath my feet: I covered classical music and dance for the Daily News as a freelancer from 1993 to 2000. It was once my dream to become the chief classical-music critic of a great metropolitan newspaper. Had I attained that goal, I would almost certainly be looking for a job today. Instead I became the drama critic of a great national newspaper, a job that has turned out to suit me better than the one after which I used to hunger. Nevertheless, it's unsettling to think how close I came to betting on the wrong horse.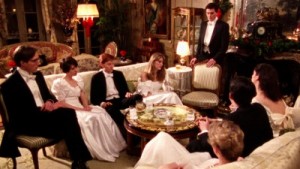 In other, equally unsettling news, Whit Stillman's Metropolitan has turned twenty-five. Here, too, I have a connection to what has proved to be one of the half-dozen most significant indie films of the Nineties: most of its key scenes were shot after hours in the living room of the same townhouse where I was then holding a salon for like-minded young New York intellectuals (up to a point, Lord Copper!) who were shinnying up the greasy pole of ambition.
I recalled that coincidence in a 2001 essay later collected in the Teachout Reader:
Once upon a time, I was running a monthly cocktail party-salon headquartered in a townhouse on the Upper East Side of Manhattan that had once belonged to Alan Jay Lerner. One evening, I showed up to unlock the bar and saw to my amazement that the room in which we gathered each month was full of strange-looking equipment, and the furniture draped with white sheets. Upon further inquiry, I learned that our digs would be temporarily doubling after hours as an interior for a movie, written and directed by a casual acquaintance of mine. People one knew didn't make movies back in 1989, nor did the acquaintance in question seem even slightly plausible in the role of auteur, but we all made a point of not spilling any booze that night, little knowing that our meeting place would someday come to be revered by independent-movie buffs as the home of the Sally Fowler Rat Pack, the anxiously earnest debs and escorts of Whit Stillman's Metropolitan.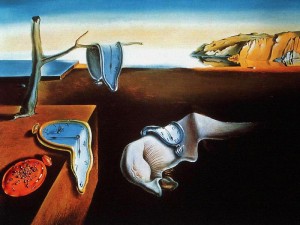 "People one knew didn't make movies back in 1989." Neither did they write and direct plays—but now I do, a goal that could scarcely have been further from my mind back then, or for long afterward. First I studied music. Then I studied psychology. Then I wrote foreign-policy editorials and ran a salon and wrote a memoir. Then I reviewed concerts and wrote profiles of jazz musicians and a biography of H.L. Mencken. Then I started going to the ballet three times a week and wrote a biography of George Balanchine. Now I sit on the aisles of Broadway and look over the set designs for the latest regional production of Satchmo at the Waldorf and think, Where has the time all gone to?/Haven't done half the things we want to./Oh, well, we'll catch up some other time. Except that we never do: we only go forward, pausing on occasion to look back in amazement at the crazy course of the bobsled ride to the grave that is a human life.
* * *
The theatrical trailer for Best of Enemies:
The original 1990 theatrical trailer for Metropolitan: