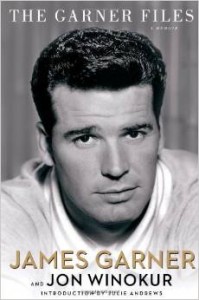 My late mother's favorite actor, the charming and greatly loved star of Maverick and The Rockford Files, died on Saturday at the magnificent age of eighty-six. His Variety obituary reveals, among other admirable things, that he'd been married to the same woman since 1956. (Incidentally, they tied the knot sixteen days after they met.)
I admired Garner's acting without reserve, and said so here in 2003. I also liked The Garner Files, his 2011 memoir, which I praised here. He didn't make very many movies, preferring the small screen, but the finest of them are memorable, including The Americanization of Emily, The Great Escape, and Twilight, the last of which he contrived to steal right out from under Paul Newman and Gene Hackman. Best of all, though, was Burt Kennedy's Support Your Local Sheriff!, a splendidly witty 1969 spoof western that has aged much more gracefully than the now-dated Blazing Saddles.
I plan to watch one of them this week in honor of the passing of a consummate craftsman who gave pleasure to millions of fans, myself among them.
* * *
To see a complete list of the answering-machine messages heard in the opening scenes of each episode of The Rockford Files, go here.
The theatrical trailer for Support Your Local Sheriff!: