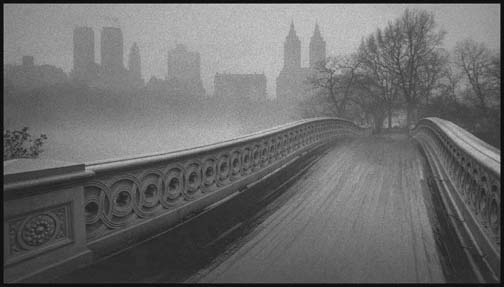 I've lived in or near Manhattan for close to a quarter-century, yet there are still moments when I catch myself feeling that the life I lead on the Upper West Side can't possibly be real. I was walking back to my apartment one day last week when that sense of improbability swept over me without warning: how on earth did I end up living half a block from Central Park, reviewing Broadway plays for a living and popping into nightclubs and art galleries between deadlines? At various points along the way, I was sure I was going to be a lawyer, a high-school teacher, a jazz musician, and a psychotherapist, and I fully expected to pursue each of these professions within the borders of the Midwestern state where I was born. Instead I wake each morning, climb down from the cozy loft in which I sleep, turn on a small electronic device that in my youth was unimaginable save to science-fiction writers, and spend the day writing about the arts. I don't live in a house, don't own a car, don't have a lawn to mow, don't know any of my neighbors. I am, in short, a New Yorker, living an unreal life in an unreal city: I love it, but I don't quite believe it.
Later that same day I hailed a cab (a curious thing in and of itself for a small-town boy to do) and went to the Metropolitan Museum, which is directly across Central Park from the street where I live. I went there not to look at paintings but to hear a concert by Chanticleer, the twelve-man San Francisco vocal group that is currently celebrating its thirtieth anniversary. Each December they give a series of Christmastime concerts at the Met, and their president, who is a friend of mine, invited me to come hear them this time around. I accepted her offer weeks ago, long before the stagehands of Broadway went on strike, not knowing that the settling of the strike would force me to spend several nights in a row going to plays and that I would have to attend one of them, Conor McPherson's The Seafarer, on the same night that Chanticleer was singing. I didn't want to miss the concert and couldn't reschedule the play, so I decided to see them both.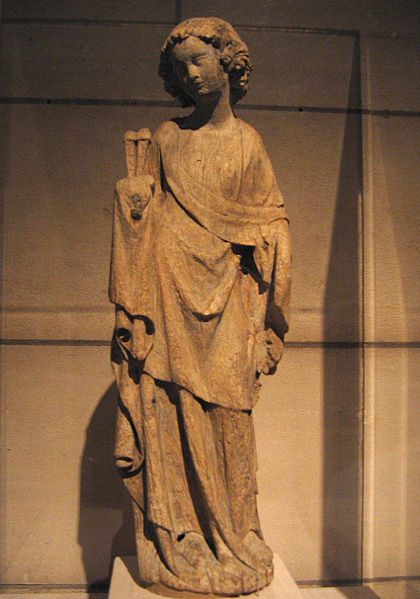 I got to the Met at six-fifteen and found a seat in the back of the gallery where the concert was to take place, a huge hall packed with pre-Renaissance European art. A vitrine three feet from my elbow housed an exquisitely wrought oak sculpture of an angel carved in the thirteenth century, around the same time that the first piece on the program, a motet by Perotin, was composed. As I gazed at the angel and listened to the harsh, briny, bracingly angular sounds of "Alleluia nativitas," two sentences flashed through my mind. One was said by the Hungarian composer Miklós Rózsa: "I have no time for any music which does not stimulate pleasure in life, and, even more importantly, pride in life." The other is the terrible line of Thomas Kyd that T.S. Eliot quoted at the end of "The Waste Land": These fragments I have shored against my ruins.
I've been to several of Chanticleer's Christmas concerts at the Met, but the one I remember best is the one I heard six winters ago and wrote about shortly afterward in the Washington Post:
On the Sunday after the World Trade Center crumbled into dust, I flew over the southern tip of Manhattan, transfixed by the insensate spectacle far below me, gaping in dumb wonder at the black hole in my city–my home.

I have been thinking about that terrible day as I look back on the arts in New York in 2001. Somewhat to my surprise, I find it hard to recall what I saw a month ago, much less before September 11. It's as if the hole had been burned not just in the city, but in time itself….

So instead of dwelling on the year's highlights, I've chosen to embrace the present moment and the immediate experience. "One greatly needs beauty when death is so close," old King Arkel sings in Debussy's Pelléas et Mélisande. At last I understand what he meant: I went out nearly every night in December, searching for beauty, and most nights I managed to find some.

I can't imagine anything more purely beautiful, for instance, than Chanticleer singing in the shadow of the Northern European Christmas tree at the Metropolitan Museum of Art. These annual concerts by San Francisco's celebrated all-male chorus have become one of New York's toughest holiday tickets (I overheard somebody complaining that the early show was sold out six months in advance), and now I know why. Take twelve men who sing exquisitely in tune and put them in a biggish room with a high, vaulted ceiling–like a church, but not as boomy–and you get sounds that shimmer and cling like handbells on a chilly day.
My companion that evening was a young woman who had come to New York to seek her fortune as a jazz singer. We met in March and immediately became friends, and in the nervous weeks after 9/11 we went to many concerts together, looking for the comfort that great art can give. Since then my friend has moved to California, but she came back to Manhattan two months ago to sing Stephen Sondheim's "Anyone Can Whistle" at my wedding, and as Chanticleer filled the Medieval Sculpture Hall with the iridescent sounds of Praetorius, Josquin, Arvo Pärt, and Anton Bruckner, I remembered how we'd sat in that same room six years before, wondering what was to become of the city of our dreams.
I slipped out of the hall as the audience applauded "Es ist ein Ros' entsprüngen," collected my coat and shoulder bag from the checkroom, trotted down the front steps to Fifth Avenue, jumped into a cab, and headed for Broadway. Twenty minutes later I was sitting on the aisle of the Booth Theatre, a handsome 1913 building that is, like the Metropolitan Museum, something of a monument to the culture that came under attack on 9/11. The Booth has housed a long list of celebrated shows, among them You Can't Take It With You, The Time of Your Life, Come Back, Little Sheba, A Taste of Honey, The Birthday Party, and Sunday in the Park With George. To date I've reviewed eight plays there, including the 2006 revival of Brian Friel's Faith Healer that starred Ralph Fiennes and was directed by Jonathan Kent, who will be staging The Letter for Santa Fe Opera in 2009.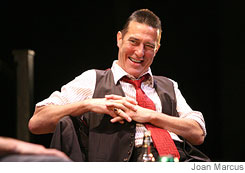 Like Faith Healer, The Seafarer is an Irish play that touches on matters supernatural, and its characters, as I wrote in last Friday's Wall Street Journal, are "frustrated men whose lives have come to naught." But it ends almost happily, which took me very much by surprise. As Daniel Patrick Moynihan remarked after John Kennedy was assassinated, "I don't think there's any point in being Irish if you don't think the world is going to break your heart eventually." Needless to say, you don't have to be Irish to know that, but life without hope is hardly livable, and in a way the most remarkable thing about The Seafarer is that it holds out the prospect–however remote and unsure–of redemption.
As I watched the final scene of The Seafarer unfold before my astonished eyes, I thought once more of what Miklós Rózsa said about the pride in life that art can make us feel. Two hours earlier I had listened with awe to a piece of music written seven hundred years ago, and looked with delight upon a wooden statuette so beautiful that generation upon generation of owners had felt moved to preserve it, until it made its way at last into a great museum, there to be preserved for all time–or until some life-denying madman should find a way to burn down the city that is its home.
Hope, Dr. Johnson tells us, is "a species of happiness, and, perhaps, the chief happiness which this world affords: but, like all other pleasures immoderately enjoyed, the excesses of hope must be expiated by pain; and expectations improperly indulged must end in disappointment." He was wrong about few things, and this was not one of them. Yet I felt the purest, truest kind of hope on the night that I listened to "Alleluia nativitas," looked at "Angel Holding the Instruments of the Passion," and watched The Seafarer, and though I have no doubt that the world will break my heart a few more times before it is done with me, I find that knowledge–at least for now–unexpectedly easy to bear.
* * *
The Gregorian Chant Group at Stony Brook sings Perotin's "Alleluia Nativitas":