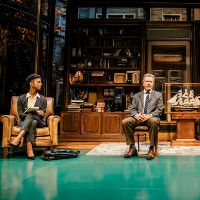 Geffen Playhouse in Los Angeles, CA, is seeking candidates for the role of Artistic Director, serving as the creative leader of one of Southern California's flagship theaters. Founded in 1995, the Geffen is known for producing innovative new plays and musicals and bold interpretations of classic repertoire in its intimate and welcoming theaters in West Los Angeles.
It contributes to the rich cultural fabric of the city and to the national theater scene with an expansive set of production offerings, new work development, and education and community engagement initiatives. The new Artistic Director will join an organization motivated by excellence and dedicated to new artistic perspectives and creative storytelling, firmly rooted in its Los Angeles environment and having a significant impact on theater nationwide. A full position description may be found here: https://mcaonline.com/searches/artistic-director-geffen-playhouse
Organizational Profile
The Geffen currently operates on an annual budget of approximately $12 million, which supports a full-time staff of 47 and 160 seasonal and project-specific employees. They are a LORT member theater operating under AEA, SDC, and other union collective bargaining agreements. In addition to their yearly operating budget, the Geffen recently announced the public phase of a $25 million endowment campaign; they have raised more than $13.5 million towards this goal.
The Geffen's artistic programming reflects a commitment to transforming the landscape of contemporary American theater, and Geffen Playhouse has produced more than 45 world premieres to date. They develop 20-30 new plays and musicals each year through workshops and readings, and feature an active commissioning program as well as The Writers' Room, which serves Los Angeles-based playwrights. Click here for more about Geffen's development work. More information is available at Geffen Playhouse's website at https://www.geffenplayhouse.org/.