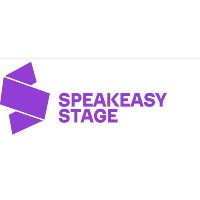 Champion new voices and drive civic dialogue – inviting impact-minded leaders.
Please download the full job description and supporting materials here: https://tinyurl.com/Se3aj
WHO ARE WE?
In 1992, SpeakEasy Stage was born with a simple idea – to give emerging, local artists a chance and build a thriving theater scene in Boston. From its humble 40-seat beginnings to its 200+ intimate blackbox spaces at the Calderwood Pavilion, it has grown into a leading voice in Boston's thriving theatre ecosystem. SpeakEasy's driving force – which lies at the heart of its programming, administration, and board leadership – is its unrivaled commitment to boldness. Driven by a relentless calling to leverage the transformative power of theatre to connect us with ourselves and each other, it produces – and supports the development of – vital, timely stories that unearth the myriad of experiences, identities, and journeys that make us human.
Its five-production mainstage season of contemporary plays and musicals and suite of curated community programs entertain us while being relevant and thought-provoking. It facilitates important conversations about truth, identity, longing, pain, heart, inspiration, self-confidence, and so many of the human emotions and values that we all wrestle with every day. Its work addresses complex, multifaceted themes – such as gender identity and acceptance, immigration histories and policies, and racial power imbalances – with courage, compassion and authenticity on stage and off. It champions emerging and diverse voices and dives bravely into the depths of our society's complexities, playing an important role in compelling essential community dialogue and ultimately, social change. Its shows have been known to spark conversations and introspections that continue months, and even years, after leaving the theater. As critics and patrons have described:
"SpeakEasy Stage Company's production of The Inheritance is as perfect and vital as it gets. I'll be thinking about this play for the rest of my life." – Christopher Ehlers, DigBoston
"Every SpeakEasy show I see stays with me. You're doing the important work of showing us theater that matters."
– Audience Member
SpeakEasy's evolution and success have been dually driven by the visionary and humanistic leadership of its founder and Producing Artistic Director, Paul Daigneault, and by its talented community of Boston-based artists, creative and production teams, and administrators who consider it a home for artistic risk-taking and civic impact. SpeakEasy benefits from a committed Board of Directors, each of whom are deeply engaged in the life of the organization and provide the strategic, intentional leadership that enables it to thrive. The Company has a demonstrated track record of investing in its people – from emerging talent and future arts leaders to its community of accomplished professionals, patrons, and donors. This investment is underscored in its active equity, inclusion and belonging initiatives being collectively advanced by its staff, Board, artists, and creative and production teams.
WHAT'S NEXT?
For over thirty years, SpeakEasy has been led by its founder and Producing Artistic Director Paul Daigneault. In recent years, Daignault and the Board of Directors have been envisioning SpeakEasy's impactful future, which will include a focus on efficient and innovative business operations, an amplified community engagement effort and a diversified philanthropic effort.
Recognizing that both the artistic and managerial roles have increased in scope and complexity as the Company has evolved, Daigneault and the Board have designed a new leadership role which will split the artistic and management responsibilities and support SpeakEasy's next stage of growth and evolution. At this important juncture, SpeakEasy invites interest from theater professionals who have a vision for furthering this important institution as its inaugural Executive Director.
In line with its mission, SpeakEasy welcomes inquiries from all interested candidates and strongly encourages individuals identifying as BIPOC, LBGTQIA+, neuro-diverse, and differently-abled to consider the opportunity, as well as individuals who meet some, but not all, criteria and bring relatable experience that they feel would prepare them to excel in the role.
WHO ARE YOU?
The Executive Director is a new position which will lead SpeakEasy's management strategy and operations and serve as a trusted partner and collaborator to its Producing Artistic Director and its Board of Directors.
They will be a passionate and engaging theatre professional, driven to tell bold stories, champion diverse voices, and expand SpeakEasy's impact. They will be a relationship builder at their core, committed to building trusting relationships with artists, staff, board members, audiences, donors, and Boston's theatre community.
They will be a strategic business leader able to partner meaningfully with the Producing Artistic Director, Board of Directors, and staff to operationalize the artistic vision and produce the resources, organizational structures, and visibility necessary to achieve it.
They will be a collaborative and inclusive leader with an interest in advancing its equity, inclusion and belonging practices in partnership with the Artistic Director, Board, staff, artists, creative and production teams, and consultants.
Are you interested in this opportunity? Let us know!
Applications and inquiries will be reviewed as received. For priority consideration, interested candidates are invited to apply or express their interest by mid-March 2023.
This search is being facilitated by Syrah Gunning, Director, Executive Development and Brett Egan, President, of the DeVos Institute of Arts Management at the University of Maryland, a leading provider of arts management services, training and thought leadership for arts, cultural, and educational sectors worldwide. Learn more here: http://www.devosinstitute.net
To apply, please email your resume, a brief answer to the question below, and any questions you have about the opportunity to Syrah Gunning at segunning@devosinstitute.net.
Why are you interested in this opportunity at this point in your career? What draws you to SpeakEasy's work?