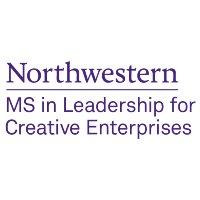 Northwestern University's MS in Leadership for Creative Enterprises (MSLCE) program develops leaders across Entertainment, Media and the Arts. Earn your Master's in One Year.
More than ever, the creative industries need professionals who can leverage strategic business knowledge to drive innovation and growth. They also need effective and agile leaders with an expansive understanding of how the various sectors of the creative economy are woven together and interact with each other.
The MSLCE program's unique cross-disciplinary curriculum was designed with the transmedia interests of creative professionals in mind and provides the flexibility and adaptability that is crucial to navigating today's creative economy. Students come from a wide variety of backgrounds across television, film, media, visual arts, dance, theater, music, marketing, fashion, and more. They are bound not only by their creative interests and experiences, but the drive to innovate and make an impact over the course of their careers.
Key features of the Master's in Leadership for Creative Enterprises include:
A curriculum tailored to understanding and addressing the organizational, marketing, financial, entrepreneurial, legal, and analytical needs and issues within the creative sector
A summer experiential component, bridging the program curriculum to a real-world setting
Engagement with organizations and professionals across creative industry capitals
Professional development funding that empowers students to pursue and engage with impactful networking and career opportunities
A one-year time-to-degree for full-time students, with a part-time option available
Flexible Enrollment Options
Begin the program in September or January
Full-time or part-time enrollment options
Applications are now being accepted for Fall 2023 admission.
Learn more at http://creative.northwestern.edu