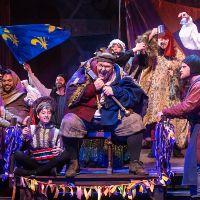 Skylight Music Theatre invites consensus-building entrepreneurs who bring positive energy and strong management skills to bear in a professional theater producing environment to apply to serve as the organization's next Executive Director. The Executive Director is Skylight's top organizational steward and is expected to form strong and collaborative relationships with all staff and Board members. The relationship between the Executive Director and Skylight's Artistic Director is of paramount importance as Skylight considers its evolution and continued visionary resilience.
The Executive Director should be a skilled strategist who will focus particular energy on building new financial resources to support Skylight's core operations, all with a management philosophy grounded in empowering and energizing staff and Board members to play individual and collective roles of significance in the company's long-term success. Through proactive communication, a mind for finance, systems, organizations, and capacity building, and a heart and soul for advocating passionately in service of the mission and vision of an organization, the Executive Director should embody the ideals of servant leadership and charismatically shine light on Skylight as a unique cultural asset worthy of sustained support and interest from a broad group of patrons, donors, and allies. A full position description may be found here: https://mcaonline.com/searches/executive-director-skylight
Organizational Profile
The origin of Skylight Music Theatre dates back to 1959 when legendary Milwaukee public relations man Clair Richardson pitched an idea to a friend to rent out an empty office space and produce an evening of Gilbert and Sullivan so that they could "have some fun." That auspicious beginning was the spark that led to the creation of the Skylight Comic Opera Theatre which was housed in a converted space on Milwaukee's Cathedral Square that had once served as an automobile garage.
That iteration of the company grew and thrived into the early 1990s, when the then retitled Skylight Opera Theatre moved into the 358-seat jewel box Cabot Theatre in Milwaukee's Third Ward as the new tenants and owners of the Broadway Theatre Center. More information on Skylight can be found on its website at https://www.skylightmusictheatre.org/.