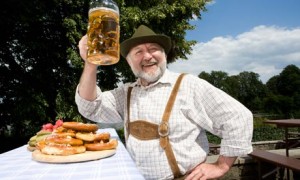 A few years ago I came across a paper by Oliver Falck, Michael Fritsch and Stephan Heblich, 'The Phantom of the Opera: Cultural Amenities, Human Capital, and Regional Economic Growth' that used a rather unique data set to try to get around the knotty problem of finding whether cultural amenities generated urban economic development, or followed urban economic development:
We analyze the extent to which endogenous cultural amenities affect the spatial equilibrium share of high-human-capital employees. To overcome endogeneity, we draw on a quasi-natural experiment in German history and exploit the exogenous spatial distribution of baroque opera houses built as a part of rulers' competition for prestigious cultural amenities. Robustness tests confirm our strategy and strengthen the finding that proximity to a baroque opera house significantly affects the spatial equilibrium share of high-human-capital employees. Then, a cross-region growth regression shows that these employees induce local knowledge spillovers and shift a location to a higher growth path.
I think this is a really interesting approach, a natural experiment. But scientific progress comes from falsification, and today I received a new paper by Thomas K. Bauer, Philipp Breidenbach and Christoph M. Schmidt, '"Phantom of the Opera" or "Sex and the City"? Historical Amenities as Sources of Exogenous Variation':
Using the location of baroque opera houses as a natural experiment, Falck et al. (2011) claim to document a positive causal effect of the supply of cultural goods on today's regional distribution of talents. This paper raises serious doubts on the validity of the identification strategy underlying these estimates, though. While we are able to replicate the original results, we proceed to show that the same empirical strategy also assigns positive causal effects to the location of historical brothels and breweries. These estimated effects are similar in size and significance to those of historical opera houses. We document that all these estimates reflect the importance of institutions for long-run economic growth, and that the effect of historical amenities on the contemporary local share of high skilled workers disappears upon controlling for regions' historical importance.
The good news: there is so much to be learned, so many great dissertation topics out there waiting to be picked up!