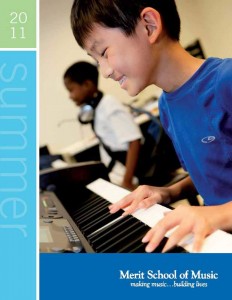 At the Salzburg Global Seminar I wrote about in my most recent post we were fortunate to have a number of leading music educators from around the world as participants.  Among them was Duffie Adelson, President of Chicago's Merit School of Music, who spoke to us about that impressive school's philosophy and results.  In her talk she hit a nerve with me by saying that we in the arts need to "celebrate rigor" and that "being held to a high standard is the highest possible compliment" you can pay someone.  Merit's mission statement is overt with respect to the results expected from musical training in a nurturing and rigorous environment: "to provide life-changing experiences for children through music."   More than 6,000 children from 140 Chicago-area zip codes are enrolled in Merit's programs, which purposefully reach out to diverse communities and strive to remove economic, geographic, and other barriers to participation (programs are offered in more than 50 locations as well as the school's flagship building in downtown Chicago).
Merit's philosophy is that talent and interest in music is equally distributed in every neighborhood, city, and country, but what is not equally distributed is "exposure to the beauty and power of music, and access to training."   Merit has created a pathway that leads from non-student to "musician and enlightened citizen." The path starts with exposure to music, then to inspiration and motivation to learn music, then to access to training and a nurturing community of teachers and learners, and then to the embrace of rigor as an essential component of musical training. Through insistence on rigor and the pursuit of musical excellence, Adelson states that "a force of tremendous and life-altering, transformative intensity results when rigor is married with access to musical works of deep intrinsic value.  This is the most joyful and effective way to help shape our youth and civilize our world."
Adelson's insistence that rigor is a central, key component in musical training is worth considering deeply.   Much of the arts education in our society stops at exposure to music or at best at encouraging participation.  How many schools and programs go further to celebrate and embrace rigor, and insist on the highest standards?  I think it may be fewer than we are willing to admit.  Yet in accepting a "showing up is enough" standard for our youth do we not fail them? Do we not believe that the pursuit of excellence is a route to understanding the meaning and power of art?
Discussions of relative merit, of what makes something great as opposed to good enough, are surprisingly uncomfortable for many in the arts.  This is especially difficult when instead of comparing gradations of goodness, we have to confess that something is actually weak or downright bad.  By "bad" I mean without structure, intellectually shallow, not well performed or executed, devoid of emotional commitment, all those things that together can make the difference between a deep artistic experience and no artistic experience.
In craving the artistic experience and in promoting its soulful benefits, let's not forget that rigor is essential.  Standards matter.  Excellence exists, and doesn't.  We call our artistic pursuits "disciplines" for a reason.   Celebrate rigor!  And thank you, Merit School.