I have a suggestion for any opera company that commissions a new opera. And I don't mean this as a joke. Once the work starts to take shape, show it to someone at HBO. And if they say it isn't good enough for them, pull the plug.
Why do I say this?
Because HBO, along with Netflix and other cable/streaming companies, sets the gold standard for dramatic art in our time. The Wire — one of the most powerful works of art I've encountered, from any age, in any medium. The Sopranos. On the Syfy channel, Battlestar Galactica. (If you haven't seen it, haven't read about it, don't think it can't be art because it's sci-fi.) On Hulu, The Handmaid's Tale (at least season one; season two got a little arty).
And of course many shows I haven't seen.
This is our competition!
Yes, my friends in the opera business — this is the standard our future audience is used to. What they judge things by.
The existing opera audience, already loving opera, might give us a pass if we don't meet this test. But the new one won't. And we need a new audience. All of classical music does.
Why we have a problem 
I've seen four major — well, major inside the classical music world — new operas in the past couple of years. Champion, by Terrence Blanchard, with a libretto by Michael Cristofer. The (R)evolution of Steve Jobs, by Mason Bates and Mark Campbell, which I saw it its world premiere in Santa Fe. Marnie, at the Met, by Nico Muhly and Nicholas Wright. And, this past weekend, at the Washington National Opera, Silent Night, by Kevin Puts and Mark Campbell.
Would these shows — even if they weren't opera, even if they were straight drama, without singing — made without music, structured the way they art — make it on HBO? I can't believe they would.
Take Silent Night, for instance. Its story — about a truce improvised by enemy soldiers on Christmas Eve during World War I — tugs at the heartstrings. But that's an easy win.Tell the story with any reasonable details, and we'll all be moved.
But to get on HBO, they'd have to d add something  individual to the story, and Campbell's libretto never goes beyond stereotypes. Scottish, French, and German men enlist. Glory, glory, kill the foe!
And then they find out war is hell. In case we didn't know that! All of this shown so quickly, and so much in ways we've seen a thousand times, that it doesn't feel real. Or even slightly interesting.
How might they do this on HBO?
Not that I've ever worked there!
But even so, two suggestions. If we all know that war is hell, maybe don't show that! Leave out the enlistments and the perfunctory battles. Start the opera in the trenches! With French, Scottish, and German soldiers cold, wet, and hungry. Louse-infested. Many of their best friends dead.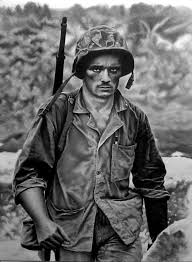 And if you must show the battles, make them ghastly. As war really is. Show soldiers with their limbs blown off, their guts blown out, screaming for their mothers while they die. Show us men in combat shitting their pants, as some do, afraid to fire their guns.
(If you want a model for that, here's someone who does it searingly, though you might not know of him — Harry Turtledove, who writes novels about alternative history, including a searing series about a nuclear war in the 1950s. He writes detailed combat scenes, all of them harrowing, though of course some of the soldiers are heroes, just as they are in real wars. Turtledove hates war, it seems to me, but he's convincing saying so because he also clearly knows it.
One more stereotype from Silent Night
Top officers in Britain, France, and Germany learn about the Christmas truce. They're angry! So they sing an angry trio, of course from three different places, in which they all say the same thing.
Well, a trio! How operatic!
But also how cartoonish.Why not write a trio in which each officer  is an individual, in which they each say different things? Open is perfect for that. And you don't even have to stay in opera to find an example. Stephen Sondheim did it wonderfully in A Little Night Music.
So much less hackneyed, so much more interesting, so much more true to life if they each say something different. Which would also make something of how they're each in a different location.
One of them could be implacable. The soldiers should be shot! Another, more reasonably, could simply say they should be disciplined. And the third could be sympathetic, to then be overruled by higher authority.
Of course, this is opera…
And so the music might bring even a dead libretto to life. But the music here is slight. That's especially true in the biggest scene, the truce. Here the music doesn't touch the deep humanity of what we see, and so it seems to vanish.I thought the scene would play just as strongly without it, except in moments where the music comes from characters onstage.
But they'd also make that music in a spoken play, so it doesn't make the operatic setting any more necessary.
Enough for now
I'll return to this, with more about the other three operas. Champion was the strongest of the four, for me, and Silent Night the slightest. Though I thought Marnie and Steve Jobs crashed most thoroughly, in part because the two composers really know how to write music.
But to what purpose?