[contextly_auto_sidebar id="DcLxR7KIv8h3t7Xd3l54sBypZSlRABsl"]
NEW VERSION — LINKS WORK! I bungled many links in this post, for which I give so many apologies. Not helpful, to set out to show what ornamentation was like, and then block you from hearing it. Now it's all fixed. I also bungled the link to Eva Podles in my last post. And then bungled it again, trying to fix it here. Here it is correctly. Podles is singing "Or la tromba" from Handel's opera Rinaldo, giving a stunning display of go-for-broke virtuosity. And of how to properly ornament a da capo repeat in true — extravagant — 18th century style.
(As for why these mistakes  — I didn't quite understand how something new in my FTP software worked. But the lesson for all of us is: proofread! Check your links before you post.)
More on ornamentation — returning to the way musicians once ornamented and otherwise changed the music they performed — as a way of making old classical music sound contemporary. Continuing from my last post.
I'll just cite examples here, notated and/or with audio, without giving much commentary.
Listen to Wilhelm Backhaus, the great German pianist, improvising a prelude to a short Schumann piece, in a concert as late as 1969. Backhaus, born in 1884, was a musician of the old school. This recording comes from the last performance Backhaus gave. The announcement you hear, in German, tells the audience that Backhaus won't be able to play Beethoven's Op. 111 sonata, and will play Schumann instead.
It was common in past eras — the general practice — for musicians to improvise preludes and transitions in concerts that they gave. (You can read briefly about it in an excerpt from a scholarly paper I assign my Juilliard students to read. Go here, and scroll down till you find it.)
***
In his famous 1752 book On Playing the Flute, Johann Joachim Quantz gives a short course in ornamentation, starting with the simplest of examples. What would you play if you saw, in your written music, three quarter notes, repeating the same pitch?
That's about as simple as music can get, but in 1752, you wouldn't have played it as written. Quantz gives 21 examples of what you might play instead: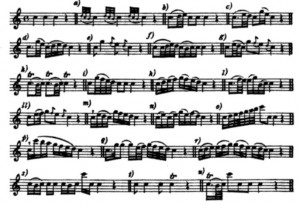 He also shows an entire movement from a piece, written very simply, but not to be played that way. Here's the beginning. Remember that this is just the way he would have played it. Someone else — or Quantz on another day — would play it differently.
***
Here's a short passage from Bellini's Norma, as it's written in the score:

And here's how it was sung by Giuditta Pasta, who created the title role in the opera:

I have to say I love that. So distinctive! Those quintuplets, hardly ever found in written music of the time. And that rhythmic sigh at the end — four routinely even eighth notes changed into something with more personality, a long note followed by a more flowing descent.
You can hear my notation software play these two passages: as written, and as sung.
***
That last measure, of the performed version, shows something else. It hints at how extensive ornamentation was in Italian opera, during the first part of the 19th century. Someone might do what Pasta did even in a passage that wasn't otherwise changed. This was, in fact, the 19th century concept of rubato. Not, as we understand the word, that singer and accompaniment would together change tempo. But that the accompaniment would continue in tempo, while the singer changed the rhythm, maybe even getting ahead of the beat or behind it.
Here's an astounding example of that, a passage from the Count and Figaro's duet in the Barber of Seville, as sung by Manuel Garcia, the tenor who created the role of the count.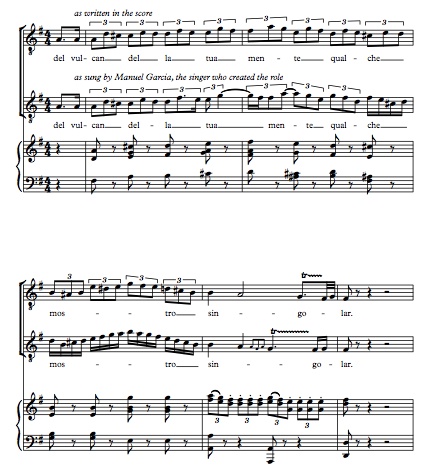 Going off the beat, almost like a jazz singer…and then that sunburst of 16th notes, replacing Rossini's even triplets. I'm sorry that I haven't yet worked out a rendering of this that sounds decent. (It's not a trivial problem, as I found out, trying to get my software to play this so that the jazz-like phrasing came across.) Rossini's original sounds, really, quite routine, next to what Garcia does with it.
And — can't say this enough — another singer would have done something else.
(Garcia, Jr. prints this transposed a tone down, to F major. Could be that his father had a low-lying tenor voice. He also sang the title role (written for a baritone) in Don Giovanni. I thought I'd transpose it back up to Rossini's key, so it wouldn't look strange to those who know the music from the score.)
***
As I said, ornamentation was extensive in bel canto opera. Far more extensive than we hear today. Today, we might hear a star soprano, in a repeated section of a big aria, sing the repeat with ornaments. In the 19th century, everyone would have ornamented their repeats. (Many of these repeats aren't even heard in current performances. They're cut from the score, as if they were wasting time, or undignified. Whereas the point was to give the singers a chance to show how distinctive they were.)
And singers ornamented passages that weren't repeats. They might change something the first time that it was heard. They even ornamented parts of their recitatives. If you can find a copy of The Art of Singing, by Manuel Garcia, Jr, son of the man who created the tenor role in the Barber of Seville, you'll see all this documented.
Cadenzas might be very long, and might even change key. Garcia gives an example from one of the tenors who created many Rossini roles in Naples. He begins with something almost unknown today, a messa di voce, which means that he started a note very softly, held it, increasing in volume, until it was loud, and then diminished it to something near silence.
And not only did he do this once. He did it four times, presumably on a single breath. And then broke into a fireworks display of scales and roulades.
The purpose of all this, it's important to say, wasn't simply vocal display. Ornamentation could be a form of acting. That is, you change the notes of your part to give the music nuances that correspond with your conception of the character you're playing.
Or you might change the music to accommodate your vocal range, or style of singing. The title role in Rossini's Semiramide, to give a striking example, was written for Rossini's wife, Isabella Colbran, who may never have had much of a high range, and who in any case wasn't getting any younger, and maybe couldn't sing high anymore.
So her part, as written, lies rather low. You can download a score, look at the soprano's big aria, "Bel raggio lusinghier," and then listen to Joan Sutherland sing the music on her first spectacular record release, a two-CD (originally two-LP) set called The Art of the Prima Donna. Sutherland, with a much higher range than Colbran (and with spectacular high notes to glory in), rewrites some of the aria so it lies more comfortably for her. Which no one in the 19th century would have blinked at. Why wouldn't you do that? Why limit yourself, by singing notes written for someone whose voice worked much differently from yours?
***
Here's an example of how extensive ornamentation could be, in a single aria, taken from Manuel Garcia, Jr.'s book. He gives two sets of ornaments for "Ecco ridente in cielo," the Count's aria at the start of the Barber of Seville. He doesn't say whether either is what his father sang, but he much prefers the first set, saying that they fit the Count's character better. The second set, he says, are too languid, too emotional. (I'm paraphrasing, since I don't have the book with me.) Which again shows that the purpose of ornaments was more than vocal display.
Look at how copious, and how detailed, the many changes are. How many lovely moments come and go. And, of course, how long the cadenzas in both versions are. We just wouldn't hear this today.
***
One problem with ornamentation, in our time, is that it clashes with the imperative — absorbed by classical musicians of the past couple of generations, like a religious edict — to perform music exactly as the composer wrote it. Because the point of playing or singing the music is to realize the composer's intentions.
But what if the composer's intentions were to have the music changed? That goes against the orthodoxy so many of us were taught. And so even if we make changes, we make them modestly, not quite daring to imbue every moment of the music with intentions of our own, as performers of the past wouldn't have hesitated to do.
***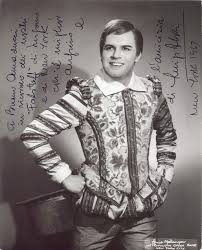 I'll end with some musical archeology. Three recordings of "Ecco ridente," going back in time from the modern era of classical music performance. The modern performance — modern, even if it's from 1963 — is by Luigi Alva (from a studio recording by a cast that sang the opera at Glyndebourne, with Victoria de los Angeles as Rosina and Sesto Bruscantini as Figaro; Vittorio Gui conducted). Alva sings exactly what Rossini wrote in the score, except at the very end, when like all modern tenors he goes up the scale to a high G, instead of gracefully reclining on a lower one.
The second performance was sung live at the Met Opera in 1941, by Bruno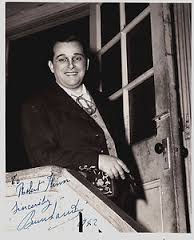 Landi, a tenor I otherwise haven't heard of. A very graceful, relaxed, and winning performance (not that Alva's any slouch), with ornaments added here and there. (This comes from a CD set I don't think is currently available, and which had excerpts from every Met Opera broadcast in the 1940-41 season. Such a wonderful way to see what performances were like back then, and how high the performing standard was.)
And then finally, from 1904, a recording by Fernando De Lucia, sung with a most relaxed, most personal (some might say self-indulgent) sense of tempo, with many ornaments.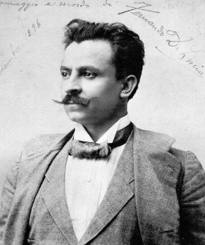 Just imagine going to the opera, hearing De Lucia and other singers doing all those ornaments, each in his or her own way. Or singers of earlier generations doing even more. And then going to hear the opera again, with different singers, and now it sounds remarkably different. If you hadn't heard a singer in one of those roles before, you might have no idea of what was coming next.
Gives going to the opera a new and different meaning. And changes the relationship of performer and audience. I'm not saying no one does anything like this today (though maybe freewheeling invention might come more often in cadenzas in concertos than on the opera stage). But we could use a lot more of it.
Afterthought: Another striking recording, with free use of ornamentation. The Ensemble Organum singing the Kyrie from Machaut's Notre Dame mass.