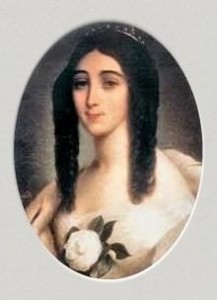 Many people in classical music know the name Marie Duplessis, because she was the real-life Paris courtesan whose story — greatly fictionalized, in a novel by Alexandre Dumas — was the inspiration for La traviata. 
And a New York Times review of a new biography of her starts by almost deploring the disconnect between fiction and reality. How sad, some people think, that the real courtesan didn't nobly sacrifice herself, the way her idealized persona in Dumas and Verdi did.
But how her life really ended was, to my mind, much more touching. Precisely because it wasn't grandiose, and feels more human.
One of her many lovers was Franz Liszt. She begged him to let her come on one of his recital tours, lasting for 18 months. "'I shan't bother you,' she pleaded. [I'm quoting the review.] 'I sleep all day . . . and at night you can do with me what you will."
But Liszt said no. Duplessis, in his wake, partied day and night. And a year late was dead of consumption.