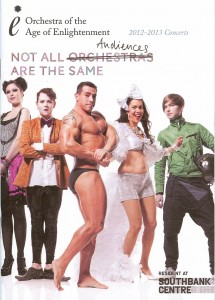 This is a post about assumptions. We all make them. And we couldn't do without them. None of us approaches anything we do as some kind of blank slate. We have opinions, preconceptions, things we like and things we don't, and all of this colors everything we do. Even research. If you want to find a new audience for classical music, and do research to find how best to do that, the direction of your research — and even your conclusions — will blow with the winds of the assumptions you made at the start.
To show what I mean, here are two assumptions you might — consciously or not — make about the new audience:
You might — again, consciously or not — believe that the new audience won't be too different from the old one. Younger, yes, and more informal. But still ready to fall in love with the great classical masterworks, and to share the same classical music culture we have inside the field.
Or you might believe it doesn't work like that, that the new audience won't be like the old one. Years ago, B. H. Haggin wrote an introduction to classical music called Music for the Man [sic] Who Enjoys Hamlet. Now, after decades of cultural change, it would have to be Classical Music for People Who Like Mad Men. That's another universe.
Where would these two assumptions lead us?
If you share the first one, you might reasonably ask who your new audience would most likely be. Where's the first place you might go to find it? You wouldn't have to look far, you might all but unconsciously think, since you've assumed your new audience would be, in many ways, much like your old one.
So you might ask who, in the world around you, already is close to classical music. Maybe, you'd think, you could approach people who play classical instruments, whether or not they go to classical concerts. So you might commission research on these people, trying to find out why they don't go to your performances, and what might make them want to. 
An approach like that — minus the research — worked at the University of Maryland when I was artist in residence there. Students who played in the music's school's symphony orchestra and wind orchestra (a fine group that mostly plays contemporary classical works) visited marching band rehearsals, and also rehearsals of the Gamer Symphony, a student group that plays videogame music (with a full-sized symphonic orchestra), and is — since it sells out all its concerts — the most successful musical group on campus.
The result? Success! More than 200 new people showed up at the next symphony orchestra and wind orchestra concerts.
Or you might want to do what the Cincinnati Symphony did a few months ago — play Beethoven's Ninth, stream the performance to video screens all over town, and arrange listening parties in various neighborhoods. You might do research to find out which neighborhoods in your town would work best for something like that.
But if the art museum in your town did a show of punk fashion, you might not think to reach out to those involved (either the curators or the crowds coming to see the show), because you might think these weren't your people. Even if this show was the talk of the town, as seemed to happen in New York (at least to judge from more than one piece in the New York Times), when the Metropolitan Museum of Art did just such a show.
If you made the second assumption, though, then the punk show would be on your radar. You'd know that punk is much loved in current culture, that kids who were in high school or college when punk hit in the 1970s now are 50 years old or more, and that punk has been revived both in music and (as the Met Museum show exemplified) in fashion. This is one place, you might think, that you'd find today's cultured people. So how — your research might ask — could you find common cause with them?
Or maybe you'd just reach out to people geographically near you, without first asking who'd be mostly to care about classical music. An approach like that worked, once again, at the University of Maryland, when students who played in the symphony orchestra promoted their concerts in the dorms where they lived. The result? The hall, which before that was normally just half full, now was overflowing (as I saw myself) with excited students, most of them there for the first time.
Or you might think you could do what the Orchestra of the Age of Enlightenment did, which was to brand special concerts as young, current, maybe even hip. Using members of their actual young audience who — with tattoos and edgy clothes — were clearly not the old classical music crowd. You could do research to learn how the OAE did that, and whether their approach would work, transposed from London to your own town. 
Or you might, as Lara Downes did, try to craft concerts that speak the cultural language of smart, savvy, arts-friendly people who don't normally go to hear classical music. I don't think Lara did research, because I imagine that the cultural gap  — between us and the people we want to reach — seemed obvious to her (as it does to me). But if someone wasn't so sure, they could do research to find what the people Lara wanted to reach might respond to.
Now I've outed myself as someone who makes the second assumption — as if that would surprise anyone who's been reading my blog for a while. But which side I take isn't the point in this post. I just want to highlight the two very different mindsets, and show how they might send you down very different paths, even if you honestly think your research is objective.
And I also want to ask one last question. What research could we do to show which assumption is right?