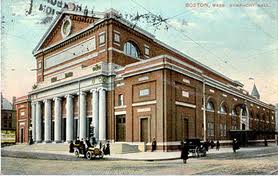 From Janet Baker-Carr's Evening at Symphony: A Portrait of the Boston Symphony Orchestra:
During the first [Boston] performance of Brahms's Third Symphony the audience left the hall in hundreds.…During the last movement of the first performance of Bruckner's Symphony No. 7 (1887) there were more people on the stage than in the audience.…[One critic] suggested that in case of fire Bruckner's Seventh should be played so that the hall would empty instantly.
Do most of us know that new music could be greeted this way, decades before modernism? I didn't. But I shouldn't be surprised. We all know how controversial Wagner was. That might tell us that audiences, in the 19th century, were conservative.
But a fuller picture starts to emerge once we know how much of the music performed in those days was by dead composers. Once the concept of "classical music" developed, early in the 19th century, old music — rarely played in the 18th century — began to be valued.
And so more and more of it was played. In William Weber's The Great Transformation of Musical Taste: Concert Programming from Haydn to Brahms, I read that as early as 1860, the number pieces by dead composers on concert programs ranged from 77% to 94%, depending on which European city you looked at.
One senses [Weber writes] that a tough set of discussions went on between composers and the directing boards of concerts, from which emerged the practice of keeping a slot open for a work by a living composer at some concerts in a series. [my emphasis]
Sounds like our own time!
And so I don't think the problems we've had with new music in our era can be blamed on composers, for writing music that audiences wouldn't like. Instead, given the history I've just described, I'd think it's baked into the concept of classical music, as we've come to understand it. If most of our performances — in 1860 or 2013 — are old music, then of course that's what audiences want to hear. It's what they're used to; it's what brought them to our concerts in the first place.