A passionate new music fan — and donor to new music groups — in Washington has said, maybe wistfully, that the core audience for DC new music concerts is 50 people. That bears out what I've seen at DC new music events, and I'm sure others elsewhere in the US would say the same for their cities.
But there's at least one big exception — Milwaukee, where Present Music has for 31 years been playing new music, and for much of that time to really large audiences.
How do they do it? I'm going to be talking to their founder and artistic director, Kevin Stalheim, to learn more. (I talked to him years ago, but I want an update.)
But part of their secret is — that they want an audience, and go out to get it. On their website,  you'll see that they have an audience development committee, with no fewer than 15 members.
And look at their latest press release, for this year's season finale. A huge multimedia show, with new compositions, visual art, dance, and a party afterward. So that might be one reason they have an audience. Their concerts come off as big events, the kind of thing you might want to go to, the moment you hear of it.
But again, the real secret: If you want an audience, put some time and energy, maybe even money, into figuring out how to get one. And then go for it.
And speaking of fun…
From a press release from dotdotdotmusic (a PR firm in New York, specializing in new music) comes this description of neither Anvil nor Pulley, a piece by Dan Trueman, newly recorded by So Percussion:

The piece calls for a turntable, spinning vinyl with the crackling remains of some old sounding fiddle tunes (played by Trueman); virtual metronomes, clicking relentlessly but reset by striking raw chunks of wood, repurposed golf video game controllers — joysticks with pull strings, aka "the tethers"; a huge bass drum with speaker drivers attached, performed with handheld microphones, the resultant feedback tuned via digital filters to the key notes of a well-known Bach prelude; drum machines, [and] four virtuoso and highly imaginative percussionists.
Stunts? Gimmicks? Not at all. This is music doing — as has been happening for quite a while in the new classical music community — what visual art has been doing for quite a while. If you go to see contemporary art, you're going to see a lot of pieces that aren't paintings, drawings, sculpture, photography, or any of the older genres. Instead you see installations, performance pieces, wildly imaginative things for which no genre exists.
In classical music we're late in catching up. If you go to art museums, you're bound to be aware of what's going on in art. But many people, I'm sure, go loyally to classical concerts — and even many new music events  —without knowing how boundaries have been exploded by current composers.
Another extravaganza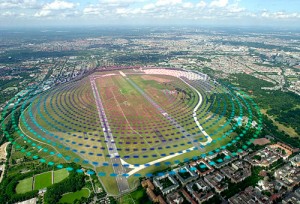 Lisa Bielawa, a wonderfully successful American composer, created a massive piece called Tempelhof Broadcast, which was performed by more than 600 musicians on the abandoned runways of Berlin's Tempelhof airport, which is no longer used for flying.
From Lisa's email blast on this:
One of my most joyful missives ever: My Final Report from the tarmac of Tempelhof Airfield! Yes, we did it – the fearless Berlin production team, led by the indispensible Jule Kauert, oversaw the take-over of the runways by 5,000 people and hundreds of musicians – including:
– 10 alpenhorns!
– the San Francisco Girls Chorus!
– a traditional german music group from Wandlitz that was born the same year I was!
– wind and brass groups from Schöneberg to Saxony to Leipzig!
– singers of all ages from the JFK American-German school choruses!
– our bi-continental, spirited team of professional musicians from Work in Progress – Berlin, the big band Das Große Alte Problem, and – of course – The Knights!
Those three days – May 10, 11, and 12 – were a joyful celebration of music-making in urban public space. My job was over once this mongrel symphony orchestra stepped out onto the field – I simply watched (and grinned like a kid) as these performances unfolded, each one with unexpected and lovely sounds and adventures. The musicians brought such playfulness, energy,
and dynamism to their roles, as they moved from the center of the runway – where all groups played together for the first six minutes, each group bringing its own sound and personality to the mix – gradually outwards over an hour, calling out to one another across increasing distances. People biked, took photos and videos with their phones, followed their favorite groups around the park, and everyone was smiling – so so many people smiling.
Wish I'd been there.
And back in the old classical music world:

The latest issue of Opera News (April, 2013) is bursting with new operas. This is the official publication of the Metropolitan Opera Guild, in case there's anyone who doesn't know it. And it's not often a new music hotbed.
In the cover is David Daniels, the countertenor, with the words "David Daniels sings the premiere of Oscar at Santa Fe." That's a new opera about Oscar Wilde (brilliant to make him a countertenor), by Theodore Morrison.
And that's the subject of the cover story. It's not a profile of Daniels, but instead a piece about him doing this world premiere.
Turn the pages of the magazine, and you quickly find a profile of Aubrey Allicock, a young bass-baritone, who "returns to the Opera Theater of St Louis this month as Young Emile in the world premiere of Champion" (a new opera by jazz trumpeter Terence Blanchard.
Previously in St. Louis, Allicock sang in La bohème, Eugene Onegin, John Adams' The Death of Klinghoffer, and Unsuk Chin's Alice in Wonderland — meaning that half his work there is in operas by living composers. 
And then there's a Q&A with "American tenor William Burden, whose repertory includes bel canto, Gluck, Britten, Berg, and Stravinsky," and who "relishes the challenge of singing new works." Right at the start, we learn he's sung or will be singing in Silent Night by Kevin Puts, The Gospel of Mary Magdalene by Mark Adamo, The Tempest by Thomas Adès, Tobias Picker's An American Tragedy, Doron Hagen's Amelia, and Christopher Theofanides's Heart of a Soldier. And he, too, will be in Oscar.
You could say he's a new music specialist, though he might not say that. And he couldn't sing all those pieces if opera companies weren't producing them. And in fact there's more new opera at American opera companies than there's ever been.
Finally, two prominent ads in the magazine: Opera Philadelphia telling us to come see Adès's Powder Her Face (and mentioning nothing else in the full-page ad). And the Ravinia Festival, highlighting three events: a concert performance of Aida, John Adams's The Gospel According to the Other Mary, and David Lang's The Little Match Girl Passion. Or in other words two events out of three — highlighted by a major festival in a full-page ad in a mainstream classical music magazine — are new music. 

Classical music is changing.