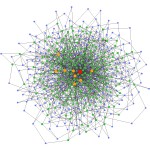 In the past week, people from two orchestras — one in person, one by email — have told me about a problem they've had. Both orchestras had some good news, something they felt (and rightly) was truly notable.
But they couldn't get press coverage. One orchestra is one of the largest in the US, the other is smaller. I'm not mentioning their names, or what the good news was, because what these orchestras think internally is their own, private business.
Their dilemma, though, is something everyone can think about. My answer, to both, was that it's not enough to pop up with good news when it happens. You'd wish that was enough, and that the media would immediately respond. But it won't. That's partly because not everyone who covers classical music is completely up to speed about what goes on inside orchestras, what matters a lot, and what doesn't.
But it's also because these orchestras may not be on the radar every day. Even media people who cover the orchestras may not think every day about how the orchestra is doing, what the orchestra's needs might be, what news might be good or bad.
So the orchestras — and, I'd think, every classical music institution — needs to fix this. The method is exactly what I and some of my readers have discussed, in my posts about musicians building their own audience, and in comments on those posts. (See the end of this post for links.) You have to keep in constant touch with your networks — your audience, your friends, your fans, and, of course, anyone in the media who might be helpful.
You keep in touch by staying active. Doing things in public. Sending updates, by email and with social media. Putting things on your website. (Note to self: Update your website more often, Greg!) Creating a steady stream of delightful, gripping, fascinating, important, or just plain fun things about yourself, which will keep others thinking about you.
Into that stream, you weave information about your ongoing concerns — ticket sales, how your audience reacts to you, relations with your musicians (if you're an orchestra), upcoming contract negotiations (if you're facing these). You try to bring in as many voices as possible — staff, musicians, board, audience, people in the community.
You show people talking about the things that, down the road, are going to be your news items. That, done right, can help to create a sense that these news items will be important. At the very least, they'll have a context. They won't just be dropped on the world out of the blue. People will have had a chance to learn why your news matters.
I've said this to both the orchestra people who spoke to me. One said that he knew I was right, but — and he's certainly right about this — doing what I suggest would be a lot of work. Work that the orchestra currently isn't doing, and for which it might not have staff time available.
I sympathize with that. No one should forget that even the largest classical music institutions, no matter how large their budgets, tend to be working at full capacity. Their resources are stretched to the limit.
But still, this additional work needs to be done. Not just to get your news covered in the media. That's actually the least of it. You do this work to build your audience, your fan base. If you then get media coverage for important news you have, that's because you've developed relationships with the people in your world, media people included.
I'll add that I'd love to help instituions do this, and that I'm available to do it. Contact me for information.
Links to the posts I've mentioned:
Plus two posts in which I relay invaluable stories from blog readers, about how they've done what I'm talking about. (And I have another one ready to go.)