I'm still catching up with news that occurred while I was away on vacation, and since this qualifies and it happened in the hapless Middle East, I thought I'd report it: in mid-August, it seems, the Iraqi National Museum reopened two renovated halls that display ancient sculptures. Mainly life-sized ones, according to a report by the Associated Press.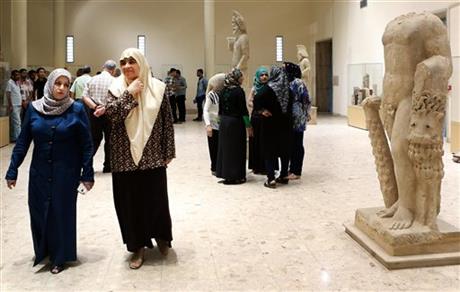 It said that the new galleries "feature more than 500 artifacts that mainly date back to the Hellenistic period (312-139 B.C.), some of which were retrieved and renovated after the looting of the museum following the 2003 U.S.-led invasion," and cited Qais Rashid, head the state-run Museum Department, as the source.
Unfortunately, the article continued:
The museum chronicles some 7,000 years of Mesopotamian civilization, including the ancient Babylonians, Sumerians and Assyrians, but remains closed to the general public out of security fears.

Iraq is grappling with a re-invigorated Sunni insurgency that has seized large swaths of the country's north and west since June. The Islamic militants leading the insurgency have destroyed a number of historical and religious monuments they view as un-Islamic or idolatrous.

But the museum inauguration in Baghdad was packed with visitors eager to glimpse relics from happier times.
The rest of the report was not so great. The current band of rebels, breakaways from Al-Qaida, that is taking over huge swaths of Iraq — ISIS or ISIL — is imposing laws that do not allow depictions of the human form. Therefore, according to the story, which sourced the comment to Tourism Minister Liwa Smaysin, "hundreds of Iraq's archaeological sites located in militant-held areas are under threat of being demolished, including a number of old mosques and shrines," though "Iraq was working with UNESCO to try to protect them."
How thrilling, as the photo shows, that Iraqis are coming out to the museum, no matter the prohibition by ISIS.
Photo Credit: Courtesy of the AP