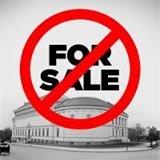 Just in: D.C. Superior Court Judge Robert Okun has granted standing, aka petition to intervene, to nine of the 19 people who, as part of Save the Corcoran, asked to be part of the case to stop the mergers put forward by the museum's trustees.
The 9 include current students, staff and faculty. The judge reportedly told the attorney representing the Trustees of the Corcoran Gallery that he expects further justification of the mergers with the National Gallery of Art and George Washington University as the way forward for the gallery and the school.
The next hearings have been scheduled for next Monday, from 2 to 4:45 pm, plus Tuesday and Wednesday, from 10 am to 4:45 pm and Thursday, 10 am to 3 pm. Here's the Washington Post article that ran on Saturday explaining more background.