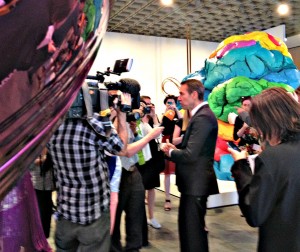 I've never seen a press preview like the one I attended today. The Whitney was unveiling its Jeff Koons retrospective. When I arrived, safely 10 minutes or so after the doors opened, the line of press people extended around the corner. Inside was packed too. Some of us went straight to the galleries; then there was a program.
After Whitney director Adam Weinberg spoke, Donna DeSalvo, the chief curator and deputy director for programs, and exhibition curator Scott Rothkopf took center stage too — and then, when it was time for Koons to speak, all the TV cameras (many) went up and so did most of the cell phone cameras in the room.
Koons didn't say much worth noting, IMHO, except perhaps that he was now focused on the future and had three decades left to continue his work. (Koons is 59.) He added that he hoped people would "find meaning" in his work.
Weinberg said the Whitney had "spared no expense to match his vision," referring to Koons and the exhibition. Weinberg explained that visitors can walk chronologically through the show (bottom floor to top) and noted that "contradiction is an essential element of his work." DeSalvo noted Koons's foresight and said that "in many cases, Jeff has had to wait for technology to catch up with his vision." (For example, getting those basketballs to be suspended in a vitrine required the help of a Nobel prize winner.)
The exhibition spans the time frame of "35 years ago" to "literally works finished last week," DeSalvo said.
Let me stipulate: I am a skeptic when it comes to Koons. I refer you to the recent New York magazine piece by Carl Swanson, which is well worth a read and which said, among other things:
…Koons is, by the measure of sales of new work, which is the money-mad art world's only objective measure, the most successful living American artist, but he has never before had a museum retrospective in New York, his home base for 36 years. And it's clear that, for him, one is not enough. "Even though the Whitney has given me the Breuer building, there still isn't that much space," he says, explaining why he's staging these two simultaneous shows after such a long hiatus. …

…[BUT] What's new in the Gagosian and Zwirner shows is that he's trying to place himself in art history—quite literally, by placing art history in his work—dragging classical statues onto the canvas or casting them in plaster. His references this time are Picasso and Praxiteles. 
I have seen only the Whitney exhibit, not the two new gallery shows, and the best thing I can say about it is that is is beautifully installed. Kudos to the Whitney on that score. On the other hand, I'm still not convinced of his merit, and I look forward to other peoples' reviews (I'm not writing one).
For now, I'm going to let readers judge. Whatever your opinion going into this, you should have a look, if you claim to be interested in art. Here are some pictures from the exhibit: