This weekend, ArtPrize in Grand Rapids, Mich., awarded $560,000 in cash to the artists of 16 installations — the end of a 19-day competitive event in which the public visited artworks spread around the city, and voted on those they liked best. 49,078 people voted, casting  446,850 votes — they chose the 10 public awards, 10 artists who together won $360,000. An eight-person panel of art professionals decided six juried award winners totaling $200,000.
Here are the two winners, tops in each contest: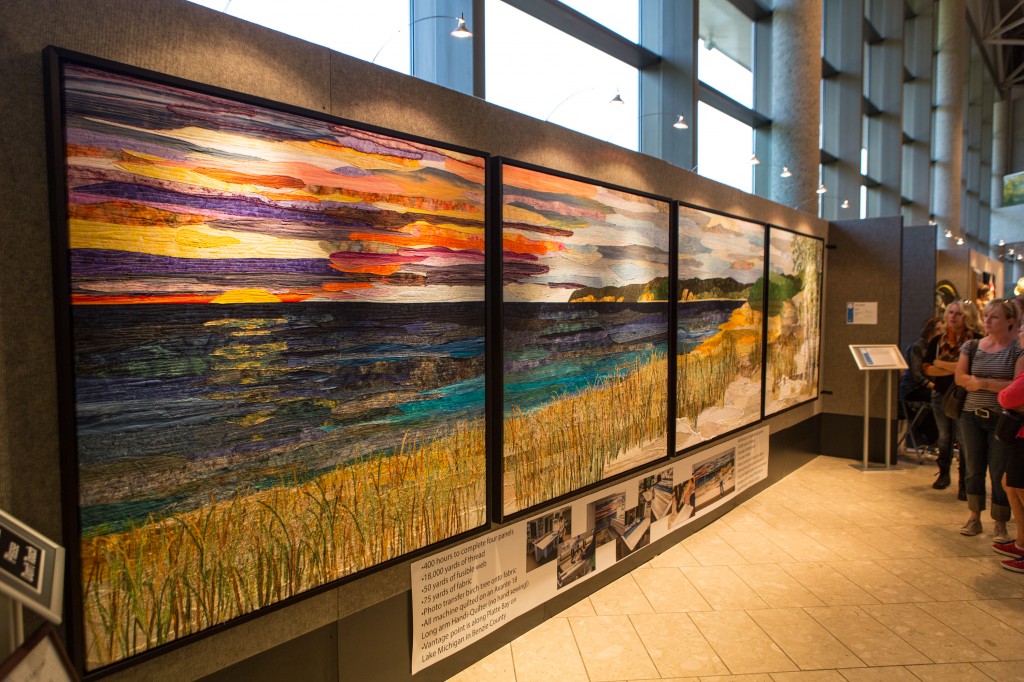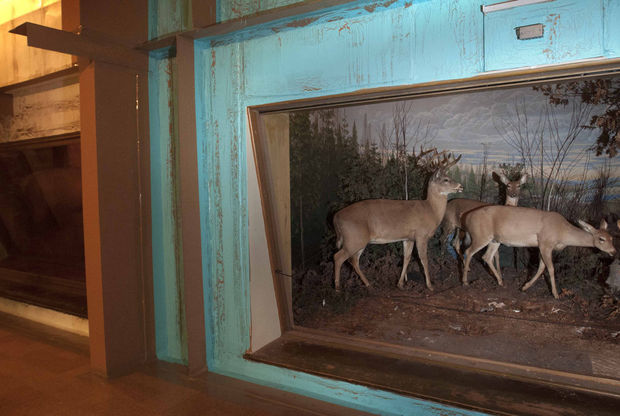 It's pretty easy to tell which won the public award and which the professionals' award, isn't it? The top, a landscape art quilt called Sleeping Bear Dune Lakeshore by Ann Loveless won the first, and the bottom — one scene from Ecosystem, a site-specific, architectural intervention by Carlos Bunga, pleased the pros.
It happens every year, and ArtPrize has been going since 2009. It's great, in a way, but it also throws the chasm between the public and the pros into high relief. I wasn't there, so I can't comment on these pieces in particular, but it seems to me that there's work to do on visual literacy — or else the professionals are going to be proven wrong by history.
The public awarded nine other awards — Anni Crouter of Flint, Mich. for Polar Expressed, three separate 48" by 72" polar bear paintings, got $75,000 and Andy Sacksteder, who made  UPLifitng, a bronze sculpture depicting two dancers, will receive $50,000,
And $10,000 each, to:
Paul Baliker, Palm Coast, Fl., Dancing with Mother Nature
Jason Gamrath, Seattle, Wa., Botanica Exotica a Monumental Collection of the Rare beautiful
Benjamin Gazsi, Morgantown, West Va., Earth Giant
Robin Protz, New Hartford, Conn., Myth-or-Logic
Fraser Smith, St. Pete Beach, Fl., Finding Beauty in Bad Things: Porcelain Vine
Michael Gard, SanFrancisco, Ca.,Taking Flight
Nick Jakubiak, Battle Creek, Mich., Tired Pandas
Pictures of those entries are here.
The other juried award winners, who each received $20,000, are
Kyle Staver, New York, N.Y., Europa and the Flying Fish
Cooley / Lewis, Chattanooga, Tenn., Through the Skies for You
Shahzia Sikander, New York, N.Y. The Last Post
Urban Space J.D. Urban, Brooklyn, N.Y., united.states : an everydaypeople project
Greg Bokor, Beverly, Mass., Erase 
Congrats to all.
Photo Credits: Courtesty of ArtPrize