PINTA NY — the six-year-old Modern and Contemporary Latin American Art Fair — is more than a month away, but I'm writing about it now because it has what I think is a unique part called the Museum Acquisitions Program. Through it, a group of museums chosen each year work with PINTA NY and exhibiting galleries to select and acquire artworks by artists represented at the fair, and — the good part — PINTA NY provides matching funds to the museums to make the deal.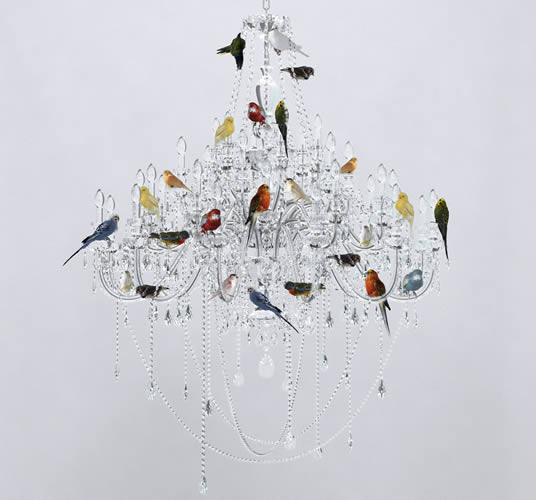 According to PINTA, participating museums so far have included:
The Museum of Modern Art
The Bronx Museum of the Arts
El Museo del Barrio
Museum of Fine Arts Boston
Harvard Art Museum
Museum of Fine Arts Houston
Los Angeles County Museum of Art
Centre Pompidou
Tate Modern
Museo Tamayo
Pinacoteca of the State of Sao Paulo
All told, they've received more than $1 million in matching funds from PINTA. This is worthy of imitation, I say to other fair organizers. PINTA itself, along with corporate sponsors, foundations, and individuals, provide the matches.
To get the matching money, museums have to be selected and it's unclear to me how they are chosen.  You might try Natasha Bunten, PINTA's Museum Program Manager.
This year, PINTA is moving to 82MERCER, a Soho loft building, for the Nov. 14-17 event. The fair is also changing its format, moving to a curatorial model.
In this program, though, its own model is worth emulating.
Photo Credit: Sebastian Errazuri 's Untitled (Bird Chandelier), Courtesy of PINTA-NY