The Museum of Modern Art has been getting a lot of pushback on its decision to demolish the American Folk Art Museum — it's increasing, rather than diminishing, and more big names are joining in. For example, the Architectural League of New York has just sent an open letter to MoMA against the plan, signed not only by Annabelle Selldorf, the League's President, but by Thom Mayne, Hugh Hardy, Richard Meier, Wendy Evans Joseph, Frances Halsband, Robert A.m. Stern, Michael Bierut, and others (many members of the board of directors). It says, in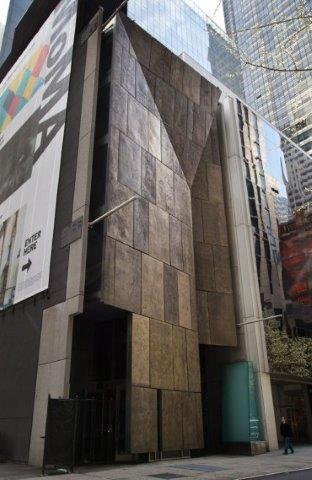 full:
The Architectural League calls on the Museum of Modern Art to reconsider its decision to demolish the American Folk Art Museum. The Museum of Modern Art—the first museum with a permanent curatorial department of architecture and design—should provide more information about why it considers it necessary to tear down this significant work of contemporary architecture. The public has a substantial and legitimate interest in this decision, and the Museum of Modern Art has not yet offered a compelling justification for the cultural and environmental waste of destroying this much-admired, highly distinctive twelve-year-old building.
The Folk Art Museum, designed by Tod Williams and Billie Tsien, was sold to MoMA in 2011, and — truth be told — joining it to MoMA would not be easy. The floors don't line up and, worse, the galleries, imho, are not ideal for showing art. They are small, irregular and dark. Unfortunately, many museum buildings are not great for showing art. So MoMA announced its plan to demolish the building by year-end and start afresh.
Several anti-MoMA petitions are circulating. One, started by Robert Bundy of New Haven, Ct. on Change.org, has 2,777 signatures as of this writing. It asks MoMA to save the building. Another on Change.org, started by Christopher Brandt of Rochester, seeks the same and has 2,984 signatures now. The Petition Site has one with 185 signatures, and SignOn.org has one with just three signers at the moment.
All this shows that today's social media are making life a lot more complicated for everyone.
What else should be learned from this? Museum boards and directors should be far more careful about they get from architects to begin with. They're the client; the architect is not the boss. The Williams-Tsien building may have been a little better suited to the folk art collection than it is for MoMA's — but not much. It's sad that a building may come down after just 12 years in existence, but I'm still wondering why it was approved in the first place.