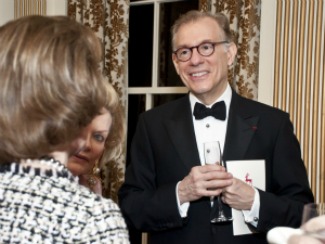 Quite by accident, because I went to the website of the Museum of Fine Arts in Houston the other day, I ran across some pretty smart outreach.
It was only days after Gary Tinterow has assumed his new job as director of the MFAH, and across the top the website read "A Message From and Conversation With MFAH Director Gary Tinterow." It's fairly traditional for new directors at a museum to post a director's message, but I clicked anyway.
I was expecting something I'd seen before: Max Anderson's missive, posted after he moved to the Dallas Museum of Art in January, is representative of the standard form of a "Welcome." I decided to check around and see what other new directors are doing. James Cuno, who took the reins of the Getty Trust last August, immediately wrote a blog post, Reflections on My First Day at the Getty — and What's Next." But he hasn't posted anything since — even though he decided in mid-December to become acting director of the Getty Museum, too.
I don't see anything from Douglas Druick, new director of the Art Institute of Chicago, on its website (it could have come down by now) and something is wrong with the link to Ian Wardropper's message at the Frick: when I clicked on "Director's Greeting" on the information page, I got the index page. So I don't know what he has done. I don't see any welcomes or messages from Matthias Waschek at the Worcester Art Museum or Thomas Denenberg at the Shelburne Museum, both fairly new to their jobs.
But back in Houston, Tinterow not only wrote a Welcome message, but also taped five video messages — available on this page. In them, he talks about his roots in Houston and how it has changed since he left to go to college, about growing up in Houston, about making the transition from New York to Houston, about the role of museums today, and about his ambitions for the MFAH.
He made some excellent points, including a comment that he thinks of works of art as a mirrow that reflect your values back at you. He reveals himself as approachable, inviting visitors to give him pointers when they see him in the galleries.
It's always hard to succeed someone like the late Peter Marzio, something of a legend at MFAH, and the man Tinterow succeeded. And I don't want to make too much of this. But it looks to me as if Tinterow has hit the ground running.
And here, btw, is Houston Culture's Map's account of his first outing as director (above).
Photo Credit: Courtesy of Houston Culture Map