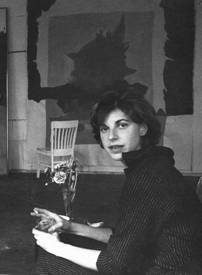 From a press release.
With profound sadness, the family of Helen Frankenthaler announces the death of Ms. Frankenthaler on December 27, at age 83, following a lengthy illness. Frankenthaler, whose career spanned six decades, has long been recognized as one of the great American artists of the 20th century.
The press release contains a summary of her career.
At left:
Helen Frankenthaler in her New York studio at 83rd Street and Third Avenue, 1964, with Interior Landscape, 1964 (collection of San Francisco Museum of Modern Art), behind her on wall (detail). Photograph by Alexander Liberman. Alexander Liberman Photography Archive, Research Library, The Getty Research Institute, Los Angeles, California. (2000.R.19). Copyright © J. Paul Getty Trust.
UPDATE: More photos of Frankenthaler at work are posted on the Ernst Haas Estate website — lovely!
UPDATE 2: Eric Gibson writes a marvelous appreciation for Frankenthaler in today's Wall Street Journal.