With the resignation of Zahi Hawass, which I broke the news of here this morning, a lot of dirt is going to come out — I am hearing many more rumblings about theft by him and professors at the American University of Cairo. [Allegations against the latter are contradicted in two comments below.] I can not attempt to confirm them, given my day job, but await reports from those closer to the situation.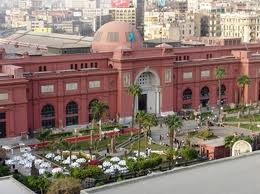 In the meantime, I have obtained a new list of missing items from the Egyptian Museum in Cairo. It comes from inside the museum, and passed to me through a short chain of reliable sources. I can not confirm it, but given the details, it seems credible enough to post here with those caveats. So, what follows is word for word from the source, including the spellings:
Here is a short description of the missing pieces (this is not yet announced officially).
A. Collection of Tutankhamun
1. Trumpet
2. The two fans

B. From Yuya and Tuya collection
1. The collection had 11 Ushaptis, 7 are missing, and 4 are still there. These 11 Ushaptis are registered as one unit. These lie in the Upper Floor Gallery 43, display cabinet # 13
C. Also in the Upper Floor Gallery 43 the display cabinet of the turquoise Hipo, everything disappeared except the turquoise Hipo.

D. Late Period, Upper floor room 12: 17 Ushapti figures are missing
E. Pantheons, Upper Floor, room 14
1. Two drawers with their figures of Pantheons are missing
2. Two cabinets one in the middle of the room and one on the side have been violated with many pieces missing.
It is estimated that from this room only hundreds of pieces are missing, as you probably know these are small figures of gods and pantheons.
F. Department of Akhenaten, Ground Floor room 3 and gallery 13
1. Thot and the scribe (This is a very famous statue, 6.8 cm high)
2. Bust of Nefertity (7 cm high)
3. Bust of Tuya mother of Nefertity.