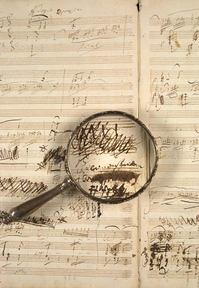 Last week, the Morgan Library and Museum* inaugurated its Music Manuscripts Online web feature. It's the early fruit of a project that began in 2007 to digitize more than 900 manuscripts, about 42,000 pages all told, and let scholars and the public see them from the comfort of, well, wherever there's a computer.
The Morgan's collection includes "works by J. S. Bach, Beethoven, Brahms, Chopin, Debussy, Fauré, Haydn, Liszt, Mahler, Massenet, Mendelssohn, Mozart, Puccini, Schubert, and Schumann, among many others."
Only about 40 manuscripts are up now, but it's a nice start. The zoom-in features allow very close inspection. The Morgan has provided a research guide. 
You can't copy anything, though — the image here, of Beethoven's violin and piano sonata in G major, is from the home page. I'm sure rights are an issue.
The Julliard School has also digitized its manuscript collection, 138 items including the late engraver's proof of Beethoven's 9th Symphony, with hundreds of his markings. Here's the list of composers in its collection. Like the Morgan, the Juilliard's music archive lets users zoom in, but not copy.
Some of these manuscripts are works of art, in themselves: they allow people to see creativity in the making. A composer I know told me that he wouldn't find them very useful, and he certainly didn't see what the public would do with them – but I hope he's wrong. Technology is funny that way: it may not prompt the behavior people expect, but frequently it proves useful in an unforeseen way.
Here's an idea to speed that along, though it may be caught up in rights issues: offer recordings of the music along side the markings on the page.
Photo Credit: Courtesy of the Morgan Library and Museum