I don't know Steven M. Davis, but he's in the running for my favorite museum architect.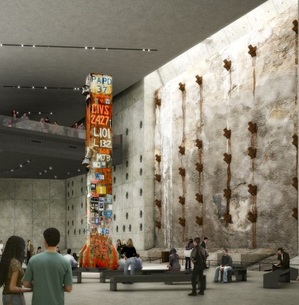 Davis, of Davis Brody Bond, is an architect of the National 9-11 Memorial Museum, and last week he characterized the project for The Wall Street Journal this way:
"In contrast with museums where viewing the building exterior is part of the experience, the memorial museum will be underground and unseen from the surface, said Steven M. Davis, the museum's architect and partner of Davis Brody Bond LLP.
'The exhibits are the icon. It's the inverse of a traditional museum in those respects,' Mr. Davis said."
I wonder if Davis could speak with the likes of Richard Meier and Daniel Libeskind.
Of course, it's true that the 9-11 museum is different from other museums, and I don't have anything against beautiful buildings above ground. Despite its statement as an architectural icon, Frank Gehry's Guggenheim Bilbao works well for the art inside, to name one.
But it's not news to say that museums have been trying to outdo themselves with trophy buildings that don't always work well for the art inside. It has to stop.
Davis Brody seems to be different. Here, according to the World Architects website, is its philosophy:
Changes in architectural fashion do not divert Davis Brody Bond Aedas from our chief objective to fulfill the needs of the people who will use our buildings. A prime concern in the design of our buildings is to create environments which encourage the human spirit, while incorporating state-of-the-art technology.
The firm's full design statement for the 9-11 museum is posted here.
Photo Credit: Rendering of the "Last Column" within the museum, courtesy Davis Brody Bond