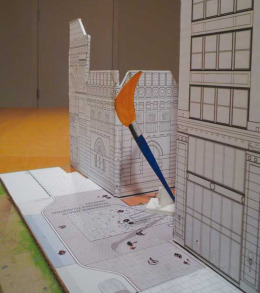 This happened last week, but it still hasn't had much notice — and it's Friday, time for a little lightness: The Pennsylvania Academy of Fine Arts has commissioned Claes Oldenburg to create a sculpture for its "Lenfest Plaza." Oldenburg has come back with a plan to erect a huge paintbrush that will certainly brighten the spot.
The picture says it all, but here's the description anyway:
The design consists of a 53 foot high sculpture in the form of a paintbrush, raised at a 60 degree angle as if in the act of painting, with a dollop of paint on the ground below. The sculpture is positioned between PAFA's Historic Landmark Building and the Samuel M. V. Hamilton Building. Oldenburg's monumental paintbrush points to the growth and vitality of American art, while celebrating a milestone in the history of the Academy.
And, quoting PAFA curator of Modern art Robert Cozzolino:
His motif of a paintbrush metamorphosing into a torch shows his sensitivity to site – not only to its presence at PAFA but in Philadelphia. Making the paintbrush into a glowing torch makes it a symbol of liberty – artistic and political – which is at the core of an art school, a vibrant art museum, and our city. Oldenburg's thoughtful design has these meanings already, and as it lives its life in Philadelphia it will undoubtedly build on them in ways future generations will come to know.
PAFA says Oldenburg has created 45 such large-scale works around the world. You can read more here.
Photo Credit: Courtesy Claes Oldenburg