Your Pushbutton World of the Retrofuture
While we were having lunch on Friday, Henry Farrell showed me the digital edition of
Nixonland
by Rick Perlstein*, which has video clips embedded at appropriate spots in the text.
It turns out we were having the same thought at about the same time: One more reminder that we are actually living in the science-fiction world we read about as young nerds. (Or younger ones, rather.)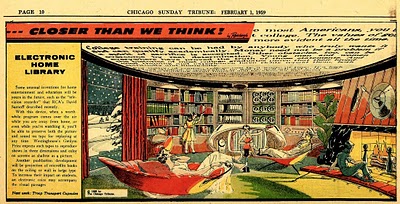 Via Michael Lieberman at
Book Patrol
, a glimpse of how that future once looked. Here's the text from the comic strip that appeared in
The Chicago Tribune
in 1959:
Some unusual inventions for home entertainment and education will be yours in the future, such as the "television recorder" that RCA's David Sarnoff described recently. With this device, when a worthwhile program comes over the air while you are away from home, or even while you're watching it, you'll be able to preserve both the picture and sound on tape for replaying at any time. Westinghouse's Gwilym Price expects such tapes to reproduce shows in three dimensions and color on screens as shallow as a picture. Another pushbutton development will be projection of microfilm books on the ceiling or wall in large type. To increase their impact on students, an electronic voice may accompany the visual passages.

All in all, I would prefer to read a book on the ceiling than on my Blackberry. The march of progress must continue
*
That's three ex-
Journolisters
mentioned in one sentence, for any paranoid obsessives out there who are obliged to keep track.