Relaunch!
Home again after a week on a
largely deserted island
-- a vacation that kept me from attending the NBCC board meeting and
35th anniversary festivities
in New York -- I'm now facing so much work that the very thought of it has induced insomnia.
Which does not make it any easier to read incredibly dense books. Fortunately, however, I have company.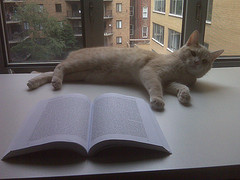 When I left before Labor Day weekend, the crew at Barnes & Noble Review were busy redesigning their website, which has
just now launched
. See also my interview with
Jim Mustich
, editor-in-chief of B&NR, from late spring.
I owe him a piece right now -- him, and many another -- and have about 3,000 pages to read by the end of the month. But consider this the resumption of major Quick Study blogging operations.
By the way, the handsome fellow in the picture is named Wiki.