Trending Downwards
Sometime last month it dawned on me that in 2008 nearly everything I wrote was published exclusively online. The pieces appearing in newspapers, magazines, or books could be counted on the fingers of one hand, probably.
This came as a surprise. The general trend had been underway for a while -- per the
first entry
here more than two years ago -- but this marked a big acceleration of it. Economics has been a factor, to some degree; the online venues paid better than the dead-tree ones. Even so, it was not deliberate, and I expect to reverse the tendency as much as possible in '09.
Then again, the results of the latest ABC audit (
via Jeff Bercovici
) make you wonder how well newsstands will do over the rest of the year: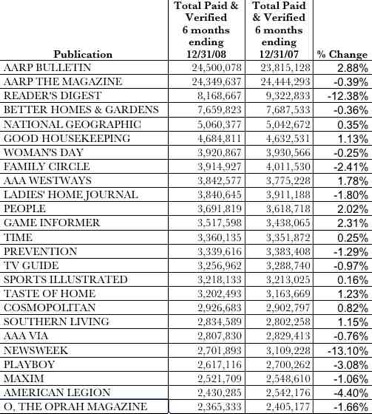 Just to be clear, I'm not concerned with the well-being of any publication here, as such. Writing for this kind of big, slick, advertising-driven magazine is not a personal priority; doing so is not pleasant or satisfying, to judge from my experience.
But their sales help keep afloat the bookstores and newsstands carrying small publications that
do
matter to me, both as venues and as brain-food. Thanks in part to
Reader's Digest
, it is sometimes possible to buy
New Left Review.
When RD's retail sales drop by twelve percent, the effect is bound to be (in a manner of speaking) ecological.
So the falling numbers are worrying. Likewise, the end of the print edition of
Book World
after this coming weekend is a bad thing -- no matter how many spiteful nullities elect to giggle over it. No doubt they assume that the felling of a monument will give them their place in the sun; after all, they won't be in its shadow any more. The spirit of resentment usually banks on some such hope. But things don't really work that way.