Bound to Be Remembered as "Lickspittle," Come What May
Now that there is a Democrat in the White House, it is time for the American right to have a go at bringing the funny.
Actually they already tried that -- late in the Bush era, even -- with a conservative version of
The Daily Show
. Let's not dwell on the abyss of ironies involved in having a fake news show on the Fox Network, and instead take a look at the
hilarity
being promoted by Richard Viguerie, the pioneer of direct-mail fundraising.
Unfortunately the horizontal dimensions of "The Gentleman from Lickskillet" prevent reproducing the whole thing, but here is a recent cell: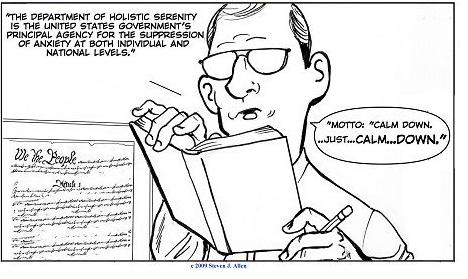 This is called a comic strip, and I think we can all see why.
A comment at
Sadly, No!
describes the cartoon as being "drawn like a Jack Chick pamphlet." I consider the remark extremely unfair. "Lickskillet" is toothless banality in search of a niche market. By contrast, Jack Chick's booklets fuse
profound sectarianism
with being
not quite right
in the
head
. His work has a certain integrity and aesthetic power.
Sorry, Mr. Viguerie, but you can't just bankroll that combination into existence. The week's worth of
cartoons devoted to the inauguration
should have told you something -- a sustained effort to pander to craziness, without having the right accent.