Duly Noted
The long-awaited redesign of the National Book Critics Circle website is
now complete
, thanks to the efforts of board member Lizzie Skurnick. I believe the expression to use at this point is "huzzah!"
This means -- among other things -- that the NBCC blog
Critical Mass
will no longer have its mascot, the Fox of Letters: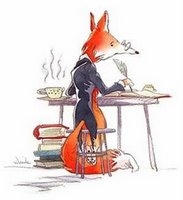 Evidently opinion is divided on this move. I have no preference either way and simply note this as a sign of the changing times. Liz has indicated that from now on anyone even mentioning the damned fox needs to buy her dinner. It seems like the least we can do.