Austin 2008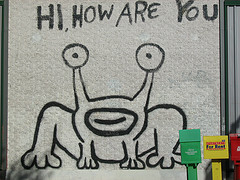 Rita is annoyed that it was impossible for her to take this picture (the
Daniel Johnston
mural from the side of what used to be Sound Exchange, in what I tire of calling "back in the day") without the clutter of boxes for "For Rent" and other such inspiring publications.
But I think that's fitting somehow.
Sound Exchange was where Daniel sold his handmade tapes and t-shirts. (I still have an original "Hi How Are You" shirt that is too faded and ratty to wear.) It was across the street from the Macdonald's where he worked in 1985.
Back then he was regarded more as pest than genius. But if you gave the tapes a chance it was pretty clear there were some talented bats in the belfry, along with a few rabid ones.