The Museum of Digital Trash Culture
We are a mixed marriage -- she, a geek, while I am (merely) a nerd. Only by chance did I learn, very late in the game, about Rickrolling, which Rita explained to me a few days ago, insofar as it can be explained.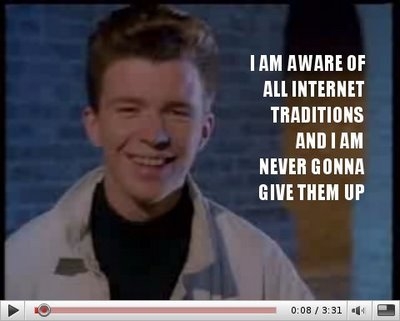 In the case of "I am aware of all internet traditions," I was, for once, many degrees closer to the epicenter -- encountering it near the original site, and within the first couple of hours of its launch and viral proliferation.
Of course this means no substantial change in my geek status (or rather lack thereof) but it's been fascinating to watch. The claim to know "all internet traditions" rebounds upon its author so fast, and on such a large scale, that within a day it becomes itself an "internet tradition" -- one deserving its own wing in the museum of digital trash culture.
Which it now officially has. Have a look here.
UPDATE: Now there is an "I am aware of all internet traditions" Cafe Press store.
Well of course there is.