Advertisement for Myself
Somewhere along the way, I lost the will to self-promote. It has been a long time since I bothered sending my work around to bloggers -- or even notifying friends, most of the time. It seems like years since I've foisted anything on an editor. For that matter, I have grown quite careless about posting links to my stuff here, of all places, where the guilt factor and potential for embarrassement is presumably just about nil.
Perhaps there is some profound reason for this? Then again, it could just be abject laziness. (Never attribute deep inner meaning to anything that can be adequately explained by entropy.)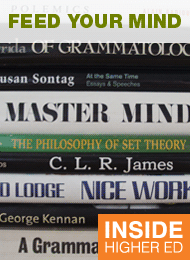 But the folks at IHE have created a set of ads for my column, including this one. I like what the graphic designer has done, so must stare down the Oblomovism long enough to post it here.....
IA recently marked its 200th installment. (Thanks to Emily for noticing.)