« To Whom It May Concern | Main | Year-End Picks »
January 3, 2008
Framing Theory's Empire
It seems as if the exhibit hall at MLA gets a little smaller each year. The one in Chicago took no time at all to cover -- even with a few impromptu discussions with editors and publicists along the way.
Since returning home, I've been drawing up a list of publishers who weren't there but ordinarily would have been. Maybe people just didn't want to go to Chicago in mid-winter? But the shrinkage (as it were) was evident last year at Philadelphia, too. It's probably just another sign of the "crisis in academic publishing," which just keeps rolling along.
One title I had hoped to see on display in Chicago is the Parlor Press book Framing Theory's Empire, about which more here. But it was nowhere to be found.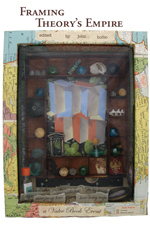 Upon returning home, however, I find that my contributor's copy has arrived in the mail. So yes, the book actually does exist as three-dimensional artifact. As John Holbo pointed out last month, you can get it from the publisher for less than Amazon will charge.
Posted by smclemee at January 3, 2008 10:14 AM