This is Radio Schizo
I really like Oliver Sheppard's taste in noise. A while back, I came across an episode of Radio Schizo, his regular music podcast, that paid tribute to Killing Joke and bands influenced by KJ. Right this minute, I'm listening to another episode that opened with a Spanish band covering "Now I Wanna Be Your Dog."
Later, there's a cut by a band from the sixties called Stereo Shoestring that -- as the host points out -- sounds a bit Joy Divisionish.
Now, I've never heard of Stereo Shoestring, and chances are you haven't either; but there's no big display here of Sheppard making sure you know he's known about the band for years, and too bad for you that this is the first you've heard of it. He just plays the song and asks if listeners think there's a resemblance.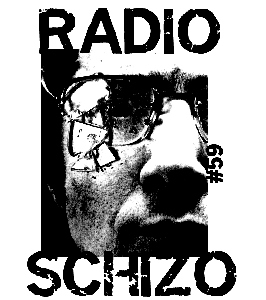 But then I lost track of Radio Schizo, partly because the show was webcast through MySpace, and my eyeballs just won't tolerate that kind of abuse. Now it's also available via Cultpunk, which goes into the blogroll here shortly. Check out the latest podcast here.
What I like about Shepphard's approach is that he clearly knows a lot about the underground rock scene but never comes off like the indie-rock snobs who are such a tiresome part of living here on the East Coast. (Oh, the rant in me, how it wells within.)
He goes about things with a certain generosity towards the audience -- mixing familiar stuff (the New York Dolls, say) with exotica, never pulling the old "this is an incredibly cool band that you will of course not know" bit, and at times displaying all due modesty about the very real likelihood that he's fallen out of touch interesting music that listeners might know.
A directory of previous episodes is available. I'm going to download a bunch of them to the iPod, once I figure out how to do that.
And please don't anyone tell me how easy that is. It'll seem easy once I've done it a couple of times. The heart sinks a little at ending up on this side of the learning curve, over and over again.