Considerations on the Cultural History of the Top of My Head
Between overdue work and impending travel, this will probably be my last entry here until the new year. I would like to use it to invite any readers who will be at MLA in Chicago to get in touch. I'm expecting to meet a couple of people in person for the first time there, and to say hello again to a few others. My schedule is still pretty open, though I need to make definite plans over the next few days.
But first, I am going to blog about my hair.
When a marriage is well into its second decade (I proposed during the first Clinton inauguration, or rather amidst it) and it turns out there is something you can do that your spouse finds particularly appealing and attractive -- well, then it is undoubtedly a good thing not to take this for granted, and just to go along with it.
So it came to pass that, twice over the past eighteen months or so, I let my hair grow out. She likes this a lot. There are waves in my hair, it seems. I never would have noticed this, let alone regarded it as a good thing; but evidently so, in the eyes of the one whose opinion in this matters.
At some point along the way, usually around the seventh or eighth month, the effect has been rather like that associated with Bernard-Heni Lévy, the best-known member of the group from thirty years ago called the New Philosophers ("by a double antiphrasis," as Castoriadis once put it with a certain wicked economy):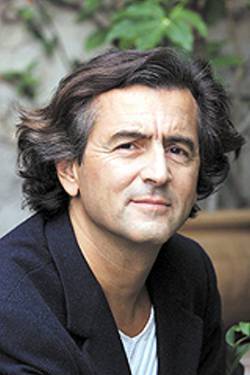 Enough guys my age are going bald that, yes, there is a bit of will-to-power involved in this. But the whole thing goes against my nature. Over the next year, we're going to hear a lot more about the generation of '68 than anyone should have to do. But I am no hippy, nor was ever meant to be -- and sooner or later, the hair began to weigh on me, quite literally. It became distracting. My wife liked it, which was good; but she did not like the grumbling.
And so now, once again, I look like Soviet futurist poet Vladmir Mayakovsky:
This really is for the best. Of course, I might well think otherwise upon arriving in Chicago in the dead of winter, when the extra insulation could prove useful.
UPDATE: A concerned reader asks, "Did you keep the facial hair?" Yes, I did. So we're talking more or less a cross between Mayakovsky and Bukharin at this point.