Gray Dawn
At a certain point while working on my review of Black Mass, the little light bulb went off over my head and I thought: "The best way of characterizing John Gray's outlook would be to say that it's like Isaiah Berlin in a really bad mood."
Quite right -- and yet not something I had room to unpack, since the word count assigned for the piece was strict. The final version comes to exactly one page of the New York Times Book Review, and is accompanied by a rather striking little piece of artwork: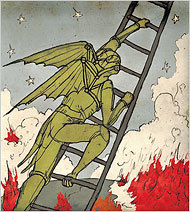 I might have to write about Gray again. His understanding of Marx and Marxism is feeble indeed, which is probably a function of knowing it at second or third hand, via Sir Isaiah.
There are some real howlers in the book, such as when Gray quotes Lenin saying, "The combination of the Russian revolutionary sweep with American efficiency is the essence of Leninism." Nobody with any real background in the history would fall for the idea of Lenin talking about "Leninism." That alone is a dead giveaway that the quotation is inaccurate.
But it's really just the tip of the iceberg. Treating Marx as a figure of the Counter-Enlightenment and opposed to individualism and trade? Having him be deeply influenced by the Saint-Simonians? Sheesh. Credible to the credulous but not to anybody who knows the texts.
Again, something I had to bracket, for reasons of space -- and in any case a matter deserving of its own essay. I got a lot out of Gray's book Enlightenment's Wake and have quite a bit to say about Straw Dogs that would require a real detour to get into.
For his own sake, though, I hope Gray never writes about Marx again -- or at least not until he's read some better cribs than he's been relying on. George Lichtheim or Leszek Kolakowski would probably have samed him some embarrassment.
(crossposted from Cliopatria)