Eat Flaming Death, Fascist Media Pigs!
I am not sure that my wife actually reads this blog* (my opinions and obsessions being made available to her, after all, and in some detail at other venues). And I know that she doubts my need for another t shirt. That is not a point I can dispute in good conscience.
Still, in the event of her being totally unable to think of anything else at Christmas, let me mention this item.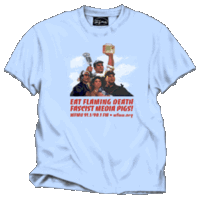 I could wear it with pride in the morning, when walking past the ABC studio in our neighborhood.
* UPDATE: "I do read your blog, thank you very much! And, no you aren't getting that shirt." Matters are thus clarified.