« On the Occasion of a New Volume by Clive James | Main | Cosmopolitan Shout Out, No. 1: The Sequel »
March 21, 2007
The Mysterious World of the Unconscious Mind
Shortly before waking up this morning, I dreamt that I was a writer for Dragnet.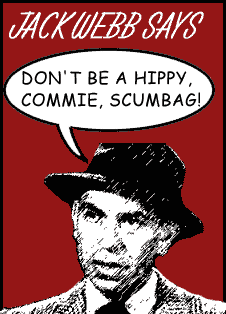 (One comma too many can ruin everything.)
Posted by smclemee at March 21, 2007 1:51 PM
COMMENTS
Perhaps meant as a multiple-choice? What do I know? I'm just the Copy Editor of the Apocalypse....
Posted by: The Constructivist at March 23, 2007 2:35 AM
About...
Quick Study
Speculations, mediations, musings, glosses, and occasional dire mutterings at barely audible volume. more

Scott McLemee
is an essayist, critic, and digital feuilletonist (rather like being a blogger only it sounds more distinguished somehow). more

Archive 372 entries and counting

Contact
mclemee@gmail.com

Syndicate this site
Search
Readings
Battle of the Titans
Dinesh D'Souza and Alan Wolfe debating? Imagine a slime mold in conflict with a patch of mildew. It's just that inspiring.

Not a Bedtime Story
Ed Petit on The Book of Lost Things

To the Tehran Station
Not about Edmund Wilson

The Politics of Pants
And the secret origins of the leisure suit
Recent Work
Fidel Castro: My Life
A review from Newsday

40 Years of "The Crisis of the Negro Intellectual"
Marking the anniversary of Harold Cruse's great book

Style and Grace
A review of a book by the late, great Grace Paley from ... sheesh, almost ten years ago.

Oh, Canada
National identity -- going south?

The LaRouche Tabernacle Choir
An interview with me about the LaRouche movement, on Pacifica radio in Los Angeles

Open Library
An interview with Aaron Swartz, one of the developers....

Sailing From Ithaka
The new report calling for a digital platform for scholarly publishing deserves a wide audience more
AJ Blogs

AJBlogCentral | rss

special culture
dance
media
music
publishing
theatre
visual

---

Special AJ Blogs