A couple of doubtless tenured and prestigious music professors suggested, as an excuse for denying me grants, that instead of trying to publish an entire book on the Concord Sonata all at once, I should first publish the individual chapters in academic journals. That would be fun, wouldn't it?, spending months going through a whole extra session of peer review so that I could bury my insights in some obscure corner of JSTOR; and then I could get the whole book peer-reviewed and receive a second, doubtless contradictory aggregation of quibbles. I don't know why academics are always so affronted by any attempt to do something ambitious. In any case, the book has now gone through peer review twice, and I'm ready to make another chapter or two public without further helpful advice, since the only peer who reviews my blog is myself – and who better? Plus, then you won't need to go through a paywall to read it.
So here it is, the central chapter of the analytical part of my thesis. I found that Ives's statements of the sonata's main theme fall into the keys Ab, Bb, C, D, and E. You will notice that these almost make up a full whole-tone scale, and in Hawthorne, there is a statement of the hymn Martyn (on which the main theme is partly based) in F#, completing the scale. (There are a few exceptions to this scheme at the end of Emerson, for reasons I expound on at length.) I don't claim that Ives worked this out in advance – but as a composer I myself sometimes realize in the middle of working on a piece that certain harmonic areas are falling into a pattern, and sometimes I go back and revise passages to reinforce that pattern, as I have evidence that Ives did here. I find that once this pattern in the Concord becomes evident, it becomes easier to hold the piece in one's mind, to memorize its complex web of particulars. I also found some evidence of whole-tone tonality relationships in the First Sonata, especially in the fifth movement (which was written long after the rest of the sonata); but results there are not nearly as conclusive. So here, with an intro musing on the analytical challenges the Concord presents, is that central part of the argument from my book – when you're in the mood for a long read.
* * * * * * * * * * * * * * *
Chapter 3: The Human Faith Theme and the Whole-Tone Hypothesis
It is a curious fact that, in 95 years, no one has published a detailed analysis of the Concord Sonata. Interestingly, there are, as we'll discuss, previous analyses of its less celebrated sibling the First Piano Sonata. There are analyses of many other Ives pieces, particularly the songs and shorter chamber works. The songs are brief and their techniques often driven by textual concerns; many of the chamber works have mechanistic aspects, and/or are written to explore some technical device. With the Concord, though, we have a large, sprawling Romantic structure with some programmatic elements, though not nearly enough of those to determine or explain the myriad events. Overall, the piece is intuitively written by a master improviser who worked on it at the piano, trimming and enlarging as he felt moved at the moment. There are themes, motives, large-scale harmonic structures, elements of traditional sonata form, but if we can sum all these up (and we'll try), they will still not explain everything. In addition, the piece began with materials written (or imagined) in 1904, and can't be said to have been fully completed until 1947: a remarkable 43-year period of gestation and revision. Whatever level of homogenous overall design Ives may have achieved once he completed the piece, it was not there from the beginning, and we cannot assume it.
This is not at all to imply that the Concord is in any way technically deficient or imperfect in aesthetic quality. We music professors are in the habit of analyzing pieces, and we tend to pick pieces to analyze (Webern, Bartok, and Schoenberg are popular) in which all of the notes can be accounted for, and the entire structure seems rationally constructed, the composer seems to have had a clear reason for every note choice. This both makes us look smart and creates an illusion – one that does not spread beyond academia, thankfully – that the completeness of the analysis vouches for, and is proportional to, the quality of the piece. It doesn't, and it isn't. Many tedious and uninspired pieces of music can be rigorously analyzed in every detail without improving their listenability, and in fact this academic practice has led to many composers writing pieces in a formalist way that guarantees that they will analyze well, in the mistaken impression that this is a short-cut to writing great music. That no such short-cut exists was one of Ives's most deeply-held beliefs. We will find in our discussion of his "Emerson" essay and his Epilogue that he patterned his music after nature, or more accurately, after the direct perception of reality, and that he was consequently convinced that any musical object that could be thoroughly understood and analyzed was therefore of necessity too simple to accurately reflect reality. He wrote some smaller works that can be thoroughly analyzed, but he implies in places that he didn't take them very seriously, that they were simply experiments. He thought that for a musical work to have the immediacy and richness of nature (and he derived this idea partly, I will argue, from reading John Ruskin, one of the most Romantic of the Romantics) it must have complexity and mystery and incommensurateness among its parts, so that reducing it to a single principle is impossible. If we could make a compact, water-tight analysis of the Concord, Ives would have considered his piece a failure, or a triviality. I think we can infer, in fact, that perhaps the reason no detailed analysis of the Concord has been published is that the analysts realize that no analysis of it will look complete or fully convincing; thus, 1. the analyst will seem to have been defeated, and 2. the analysis will not vouch, through its logic and completeness, for the excellence that we all feel the Concord exemplifies. But for Ives the ability of the music to defeat analysis was an explicit goal, and if my failure will prove his point, it is a sacrifice worth making.
Our traversal of the Concord, then, will be like a sight-seeing tour of a city or forest; we will point out, as we go, items of interest whose proximity, however, will be no guarantor of relatedness or similarity. But we will try, in this introductory chapter, to prepare enough of an overall groundwork that the details, as we come across them, will not lack previous context. There are passages in the Concord that have mightily impressed me with Ives's brilliant economy of materials, his ability to spin section after varied section out of the same few pitch relationships. Elsewhere, an unprecedented motive will pop into the musical texture, and the music will seem to chase rabbits for awhile. The question as to why a certain motive raises its head in one passage sometimes gets answered in another passage many pages away. I wouldn't refer to Ives's technique as stream-of-consciousness, because he's generally rather delightfully conscientious about writing in (sometimes after the fact) echoes and anticipations, leading the ear through his labyrinthine changes of texture and mood – something like an expert conversationalist who can digress so smoothly in and out of his main topic that lapses in the continuity are hardly noticed. He is generally too artful, too craft-conscious, to change topic just because he felt like it (or, at least, to leave you with the impression that that's what happened).
Analysis is description, and all music can be described – the only variable is how much generalization the description can be brought to accommodate, and thus how streamlined the package we end up with at the end. That Ives himself kept changing and fiddling with the work for decades points to some looseness of detail. But I do believe that the best evidence of some grand underlying logic to the sonata is the powerful emotional response so many listeners have had to it. People do not become attached to chaos. So let us start with a broad question, and I choose this one:
What key is the Concord Sonata in?
On its face, the question may seem absurd. The first page of the work is craggily dissonant and fiercely atonal, despite melodic suggestion of a few ephemeral tonal centers here and there. The ending of the piece is not so complex or dissonant, but still tonally ambiguous, ending on a tritone. However, while we can't use conventional criteria for assigning a tonality to the piece, there are notably some keys that are more emphasized than others – more prone to occur at climaxes, for instance – and I have come to think that Ives had a certain kind of harmonic background in mind for the piece. In hopes of leading the reader to the same conclusions I have eventually arrived at, I will pattern my narrative around how I came to have this perception.
To begin with, the Concord is a cyclic sonata with a theme that recurs in all four movements in various forms. In the literature this theme is often referred to, and will be refferd to here, as the "Human Faith" theme or melody, because of Ives's allusion to it in his description of the Alcotts movement:
All around you, under the Concord sky, there still floats the influence of that human-faith-melody – transcendent and sentimental enough for the enthusiast or the cynic respectively – reflecting an innate hope – a common interest in common things and common men – a tune the Concord bards are ever playing, while they pound away at the immensities with a Beethoven-like sublimity….[p. 47]
As has been often noted, Ives does not state his theme clearly at the beginning of the sonata, as had been normal practice for virtually all previous European (and American) music. The most original aspect of his formal technique in many works is to introduce motives and fragments of his theme in the context of thicker contrapuntal textures, revealing more and more of it as he goes along, and finally unveiling the entire theme at or near the end, as though the theme only becomes clear from the music's ongoing development; as Ives rather modestly wrote of his Third Violin Sonata, "The working-out develops into the themes, rather than from them."[1] The strategy seems modeled after the form of an argument or thought process wherein the idea is muddled and inchoate at first, becoming clear only in the effort of analysis; it is as though Ives depicts or presents in the music the process the composer goes though to arrive at the theme, rather than starting the piece after the theme has been clearly realized. Of course this is a fiction created in the music; one would not compose many pages of complex music hoping that whatever your theme may turn out to be will become clear in the end. But it is the musical analogue, or rather depiction, of a rather common thought or discussion process. Ives scholar Peter J. Burkholder has termed this "cumulative form," and identified a plethora of instances from Ives's output.[2] One could say, I think, that no general aspect of Ives's composing technique is more original than this.
The Concord Sonata is only in part concerned with cumulative form, and that part mostly involving the Human Faith theme. The theme never appears in what we come to understand as its totality until the end of the third movement, The Alcotts. In Emerson we hear motives from it at the beginning, and a bitonal statement of the first and second halves simultaneously, and then the theme's second half at the end. In Hawthorne we hear each half successively in different keys, and with alterations. The Alcotts contains several statements, the fullest and most linear only at the end. The first three or four notes, which I will refer to as the "Human Faith motto," appear frequently in all movements until Thoreau, from which the theme is almost absent until the end.
Despite the Concord's well-deserved reputation for complex dissonance and general atonality, the Human Faith theme is not at all tonally ambiguous, using only six pitches of a seven-pitch diatonic scale (omitting the leading tone). Its tonality is defined by the opening note of the C-D-E-A motive, and in the second half by the lower note of the prominent major third. Ives never states the theme in the same way twice, and no one variant of the theme could be considered the essential "theme in itself," but I will quote it here as abstracted (minus chords and accompaniment) from its grandest and most complete statement, at the end of the "Alcotts" movement, and in the key of C (Ex. 3.1).

Ex. 3.1 The Human Faith theme
Let us pause to consider it. It is a magnificent theme – "transcendent and sentimental enough for the enthusiast or the cynic, respectively," as Ives says (p. 47). It reaches down from its highest register as though it begins in mid-thought, as it would resume some emotively potent sentence left unfinished before, turning to a warm subdominant before resolving to an ambiguous tonic. The dynamism of that plunge is its power. "But even so…," we could perhaps translate those four notes. Then, against expectations, it ventures back up into that high register, pauses, and makes a fearful pronouncement, a motive universally associated with Beethoven – yet not at all angry or peremptory, as in Beethoven's use, but noble, yearning, and vulnerable; not dominant-to-third in minor, but third-to-tonic in major (though this ambiguity will prove fertile). And as if that isn't emphatic enough, it inches upward again, one step, then another, before coming resignedly down to the tonic. The theme goes down deep into itself and comes back up to exhaust itself in trying to make the truth sufficiently emphatic. For all that, it is so angry in Emerson, so fraught in Hawthorne, so affirmative in The Alcotts, so mystically uncertain in Thoreau. I find it one of the noblest and most versatile themes in the entire repertoire of music.[3]
Most obviously, and as oft noted, the theme clearly and deliberately quotes the first four notes of Beethoven's Fifth Symphony, in transposition, at the beginning of its second half – that is, in a sense, its pronouncement. Some think the opening theme of Beethoven's "Hammerklavier" Sonata, Op. 106, is evident as well in the melody's E-E-E-F-E-C turn, though Ives does not verbally allude to this piece, as he does in the Essays to the Fifth Symphony.[4] Less obviously, though hardly less often noted, Ives has interwoven into his theme the first phrase of the Unitarian hymn Martyn, which begins with the same repeated notes and a falling major third as Beethoven's Fifth. The tune Martyn was written in 1834 by Simeon Bulkley Marsh (1798-1875), with lyrics by Charles Wesley (1707-1788); we need only give the opening phrases here, in Ex. 3.2.

Ex. 3.2 Beginning of Martyn
One can see the correspondence in contour in Ex. 3.3.

Ex. 3.3 Correspondence between Martyn and the Human Faith theme
In addition, a second hymn, called Missionary Chant – written also in 1834 by the German organist, composer, and émigré to America Charles Zeuner (1795-1857) – is often adduced as a partial source for the Human Faith theme, though the correspondence only extends to the first four notes and their repetition. Like Martyn it begins with the repeated note and falling major third, but there its resemblance to Ives's theme ends. However, in The Alcotts we will encounter passages that more definitely suggest that Ives had this tune in mind as well, and so we will delay presenting the hymn until that point, in Chapter 9. Both hymns have relevance to the Transcendentalists. The lyrics that will be given later for the Missionary Chant were written by Octavius Brooks Frothingham (1822-1895), who in 1876 wrote the first history of the movement, Transcendentalism in New England. Martyn also has an alternate Unitarian text, beginning "Brother, thou hast wandered far / From thy father's happy home," written in 1844 by James Freeman Clarke (1810-1888), a Unitarian minister and member of the Transcendental Club who founded the first Transcendentalist journal The Western Messenger, contributed to the Transcendentalist journal The Dial, published the first articles by Margaret Fuller, and gave encouragement to Bronson Alcott. Of the lyrics, however, we will have no more to say.[5]
At least two of Ives's sketches give what is apparently an earlier version of the Human Faith theme in which the Beethoven's Fifth motive does not appear at the beginning of the second half. Ex. 3.4 shows the theme as found in the sketch page f3252.

Ex. 3.4 Early version of the Human Faith theme
(Ives's musical manuscripts comprise more than 8000 pages housed in the Ives Collection at Yale's Sterling Library. They are commonly referred to by number of the copy-flow page, with an "f" number, and we will have reason to refer to them often by this device.) In this form, it seems to me, the cadence on the whole-note D comes too soon after the previous phrase's cadence on D; inserting the Beethoven's Fifth motive relieves this imperfection with a momentary return to the tonic.
More surprising, moreover, in manuscript f3993, is a rather lengthy sketch in which the melody, omitting the Beethoven's Fifth motive entirely, is given to a flute over a repetitive piano accompaniment which shifts the phase of the accompaniment at one point (Ex. 3.5)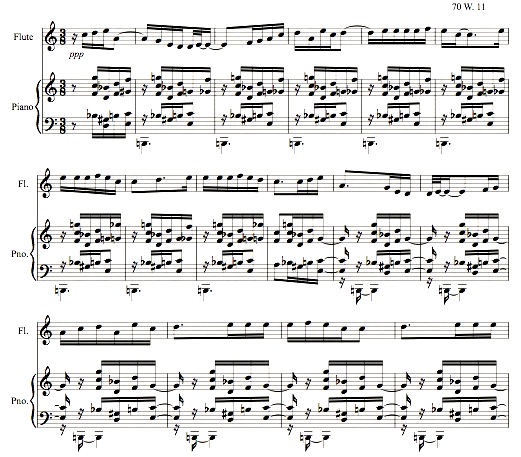 Ex. 3.5 Flute and piano sketch of f3993
This is one of Ives's more mechanically-written sketches, of which Swafford aptly writes, "Ives first resorted to mechanical patterns to explore uncommon sonorities; these patterns were an anchor under unmapped stars. Ives was quick to understand the uses of this sort of formalism, and also to understand its limitations."[6] These chords, especially the second one D-G#-D-Bb, and the textural layering suggest the penultimate page of Thoreau, where the flute enters in the key of B-flat (rather than in C as here), over an inexactly repetitive accompaniment. If we assume that the Beethoven's Fifth motive in the middle of the theme was therefore a later addition, and know that the theme is played on a flute in the Thoreau movement, it seems apparent that this ending of Thoreau, with the flute playing this theme, was one of Ives's earlier inspirations for the Concord, though it would take considerable reworking to bring it to its final form. Because the Human Faith theme is given its most frequent and lengthiest treatments in the Alcotts movement, Burkholder quite reasonably refers to it as "the Alcotts melody,"[7] but the Thoreau association was apparently there from the beginning, or almost – especially since this flute passage was inspired, as Ives implies in the Essays, by Thoreau's love for playing the flute over Walden Pond. (Also, the fact that the supposed "Hammerklavier" quotation is present in the melody before the Beethoven's Fifth motive was added, and put into the notes of Thoreau's flute, no less, is part of what makes me wonder whether quoting the "Hammerklavier" was Ives's conscious intention. After all, he alludes, in the "Alcotts" essay, to Beth playing Beethoven's Fifth on the spinet, but he does not mention the idea – a rather comic one, to my mind – of Thoreau playing Beethoven on the flute.)
Also, to anticipate much of our later argument, let us note how much the first notes of the Human Faith theme color the entire sonata. It will prove astonishing, I think, with how much inventiveness the sonata extends the simple do-re-mi motive with which it opens – from internal contrapuntal lines to derived melodies in Emerson to whole-tone harmonies to key structures shifting among those three pitches. Our references to the do-re-mi motive will be numerous. Equally important, though, are notes two through four, D-E-A. The motive of a whole step preceded or followed by a leap from or to a lower note (admittedly more often a sixth, D-E-G, than a fifth) will become the ubiquitous "Hawthorne motive" in the second movement, and the same pitch nexus (with its inversion) will define not only melodies but harmonies throughout Thoreau. That Ives could draw a 45-minute atonal, dissonant piano sonata from such simple notes is testament to his creative vision, and also the key to the piece's relative accessibility.
* * * * * * * * * * * * * * * * * * * *
The use of the Human Faith theme, for me, is the key to Ives's structure. If we adjust our focus to take in primarily the major statements of this theme, the picture is hardly random, and suggests an overall plan. Let's start with the simplest movement, and the only one that uses key signatures: The Alcotts. On the first page there is not only one key signature, but two at once: Bb for the right hand, and Ab for the left hand. The movement begins solidly harmonized in Bb. (Since bar lines can be rare in the Concord, I will identify locations not via measure numbers, but via systems denoted as page number in the 1947 edition and the system's number on that page. Hopefully this will facilitate the reader's referring to the score.) At sys. 53-2, the Bb triad in the left hand shifts down to an Ab triad. At the same time, the right hand plays the beginning of the Human Faith theme in unambiguous Bb. This bitonality continues for awhile, and at sys. 54-1 we get a climactic Beethoven's Fifth motive on D-D-D-Bb, re-establishing Bb as the tonality. The response to this, Eb-Eb-Eb-C, seems to move the key to C minor, which in this context could be taken as a minor ii chord in the key of Bb; which, at the top of p. 55, is indeed the way it is retrospectively interpreted, as the music moves through a conventional enough tonal progression back to Bb. The end of the movement's first section (syss. 55-2,3) brings back the "human faith" melody in Bb, if ambiguously harmonized in the left hand with notes drawn from a whole-tone scale on Bb, plus a C# – what we'll soon be calling a "whole-tone-plus-one" collection.
Skipping over the gentle middle section (syss. 55-4 to 56-4) for now, the third section of this little ABA form begins centered on Bb (sys. 56-5). After some wrangling between the harmonies of A-natural and Bb, the music suddenly shifts to a triumphant C major climax, as the Human Faith theme receives its clearest and most dramatic statement. The movement ends in C major – with the interesting exception that, for the last few notes of the theme (actually, a recap of the first few notes), the left hand slips down to a Bb triad, just as it had dropped a whole-step to the Ab triad on the first page. The movement's penultimate chord feints toward an ending on Bb, before ending quietly on a pure C triad. Everyone, I think, loves this moment.
In short, The Alcotts gives us a structural movement from Bb to C, with the Bb "threatened" momentarily by Ab, and the C similarly shadowed by Bb. Keep these three keys in mind – Ab, Bb, C – in connection with the tonalities of the Human Faith theme.
From here the territory becomes murkier no matter which way we turn, but let's proceed to the second simplest movement, Thoreau. This would not seem to be much help: the Human Faith theme appears as such only twice in this movement, both in the last two pages (syss. 67-1 to 68-1), both times in Bb, and both in the flute (if used), which has surprised us by suddenly appearing in a piano sonata. In the first statement only the theme's first half is complete. The second time, the theme occurs over an ostinato in the bass, A-C-G, which seems to suggest a C tonality, though not unambiguously. I will argue later that the harmonic plan makes more sense if this ostinato is taken as implying a C-major tonality, but for now let us merely note, once again, the vacillation of the Human Faith theme between Bb and C.
Something else about the Human Faith melody in Thoreau, however, attracts our attention. It is an accompaniment figure beneath the flute's entrance (Ex. 3.6), which Ives ultimately developed from the sketch quoted above from f3993.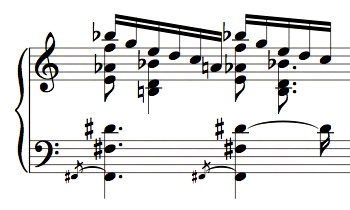 Ex. 3.6 Thoreau passage related to f3993
That pitch sequence, Bb-G-E-D-C-A over the chords F#-E-Ab and B-D-A# (or their enharmonic equivalents), is one of Thoreau's recurring ideas, first appearing at sys. 59-2 and then sys. 60-1. It comes back again at sys. 66-1, a page before the flute enters – but now the emphasized top note is not Bb, but G# (Ex. 3.7).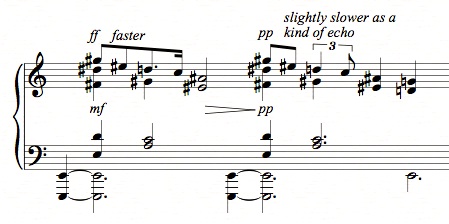 Ex. 3.7 Sys. 66-1
At this point, the material from the beginning of the movement is recapitulated a whole-step lower, though with some curious respellings: G# E# D C A# G instead of the more intuitive (or diatonic) Ab F D C Bb G. Suddenly, however, the music shifts back to the original Bb level, and then, we might say, "modulates" in Ives's peculiar dissonant way back to a C triad and then a G triad (sys. 66-2, in Ex. 3.8).
Ex. 3.8 Sys. 66-2
From this point until the flute's entrance two systems later, G is emphasized in a way that, in earlier music such as Beethoven's, might have been called a dominant preparation – that is, a sustained G building tension in order to resolve to C. Instead, however, the flute surprises us, not only by entering at all, but by ushering back in the key of Bb. The energizing shift above from G# to Bb is parallel in effect to the shift from Bb to C in The Alcotts, at the point at which the final Human Faith theme enters. And notice that, between the two movements, the same three tonalities are involved: C, Bb, and G#/Ab.
Having reached the end of the sonata from the middle, now let us brace ourselves for a plunge into Emerson. The first hints of the Human Faith theme in the work are in the first two systems of Emerson, and they both consist of the four pitches C D E A in octaves, one in the treble after the first four sounding octaves, and the other in the bass in sys. 1-2. (There are also a few isolated Beethoven's Fifth motives, but let us leave those for later.) C-D-E-A would indicate the beginning of a "human faith" theme in C. The next reference, however, starting in sys. 1-3, is the second half of the theme, starting on C – but not in C (Ex. 3.9).

Ex. 3.9 Syss. 1-3/4, Human Faith theme in bass
Instead, this is the second half of the "human faith" theme in G#/Ab, with the major third Ab-C spelled peculiarly as a diminished fourth. How odd. Moments later, as what I will later consider the movement's introduction ends, at the beginning of sys. 2-2, we get the first three notes of the theme as though it is about to be stated in B-flat. Instead, however, the theme splits into two keys at once (Ex. 3.10): the first half of the Human Faith theme, in running quarter-notes, in the key of C (with a couple of whole-tone alterations), and the second half, somewhat abridged, in the bass, firmly in the key of A-flat, though spelled once again with a G# (non-thematic notes are omitted).

Ex. 3.10 Sys. 2-2, halves of Human Faith theme bitonally combined
Thus the first introductions of the Human Faith theme in Emerson are in two of the keys we've found emphasized in The Alcotts and Thoreau, G#/Ab and C, and there's been a brief reference to Bb. This will remain, by the way, the only full statement of the first half of the theme in Emerson, although the first three or four notes will frequently recur as a motto.
So far, so clear. Before tackling the rest of Emerson, let's take a look at Hawthorne. Little of Hawthorne's heroic length concerns the theme, though there is one central, climactically emphasized statement plus its later recapitulation. The four-note motto is heard on F# at sys. 24-1, and there is a major reference to the first half of Human Faith, with some internal development, in sys. 30-2 to 31-1; despite ambiguities introduced, this is pretty much heard in the key of D. Immediately Ives follows this with a loud divigation on the second half of the theme transposed to the level of the key of E – although he harmonizes it in the relative minor, so to speak, with a C# drone-arpeggio in the bass. In syss. 49-5 to 50-3 we get something of a recapitulation of this material with the theme in the bass, with the first half once again in D and the second half on E, if in C#. The last page of Hawthorne contains statements of the first half of "human faith" in the key of D.
So far, then, we have found statements of the "human faith" theme on the pitches Ab/G#, Bb, C, D, and E. One will notice that these pitches form an almost complete whole-tone scale. There is no statement (except for the opening motto) on the remaining pitch, F#. But, in Hawthorne at syss. 34-2 to 34-4, we find quite a long passage quoting the hymn Martyn, on which the theme is partly based, in churchlike chords in the key of – F#! (Actually, there is a brief quotation of Martyn just before this in G, syss. 31-1,2, quickly interrupted as though it had started in the "wrong" key.) Perhaps we might consider this F# passage as completing our whole-tone scale.
Going back to the remainder of Emerson, however, complicates the picture. In the first place, there are two moments, which I would consider the most ferocious two climaxes of this oft-climaxing movement, at syss. 6-2/3 and syss. 18-1/2, in which the second half of Human Faith is stated, with alteration, at the pitch level of Eb, though – as in Hawthorne – harmonized in the relative minor, a Beethovenian C minor. These two climaxes are nearly identical in harmony and melody, one the recapitulation of the other. The only remaining major statements of the theme's second half come at the end, first in G (sys. 18-5, though with hints of C minor) and then, in quick succession with some bitonal mingling, in A and Eb (sometimes spelled D#), at syss. 19-2/4. I will argue, in the Emerson analysis, that the C-minor climaxes focus all the harmonic forces of the sonata in a compact nexus of whole-tone-based harmonies. And then, at the end of Emerson, three tonalities from the other whole-tone scale appear.
In addition, it will become very clear that the closing keys of Emerson, A and Eb/D#, are paired at several points in the piece as a conflict of opposites a tritone apart. We find them overtly used this way in Emerson, The Alcotts, and Thoreau (Ex. 3.11).

Ex. 3.11 Oppositions of A and Eb/D#
We will find the same opposition of keys less obviously underlying Hawthorne as well. Note that in the Alcotts example they appear along with a C-minor triad. A and Eb are, of course, equidistant from C. If indeed Ives thought of the piece as being in C, perhaps he thought of this bitonality as symmetrically split from the center.
Based on these patterns and also partly on the sketches in f3993 and f3997, I surmise that Ives started out thinking about the Human Faith theme in the key of C. Since the theme starts with the motive C-D-E, or Bb-C-D (a do-re-mi motive which will be found in all the Emerson themes), I think he added Bb and Ab/G# as underlying tonalities to express this motive in terms of key structure – Ab, Bb, C – in The Alcotts, Thoreau, and the opening of Emerson. The instances of the Human Faith theme in Hawthorne, starting in D and moving to E (and hypothetically admitting the statement of Martyn in F#), balance the C and G# at the beginning of Emerson and the Bb/C in The Alcotts and Thoreau, and belong to the same whole-tone scale. But at the end of Emerson, Ives created what might have felt (in his inner ear, anyway) like a structural tension by introducing two forms of the theme, equidistant from C, and belonging to the other whole-tone scale. In terms of the human faith melody and its transpositions, the Concord could be represented as four stages of a tonal process, diverging, converging, and diverging again:
• Emerson – starting with a C/G# ambiguity, "modulating" to symmetrically placed A and Eb in the other whole-tone scale;
• Hawthorne –stating the theme on D and E, and with Martyn in F#
• The Alcotts – starting in Bb and Ab and resolving emphatically to the tonic C
• Thoreau – recapping the Bb and Ab but ending ambiguously again between Bb and C
The key emphases charted by the Human Faith theme could be summarized as in Ex. 3.12.
Ex. 3.12 Keys emphasized by the Human Faith theme across the four movements
In short, the Concord seems to me to be in the key of C with a strong emphasis on Bb; in fact, it may make more sense here to talk about a "tonic whole-tone scale," which contains Bb, C, D, E, and G#, and a "non-tonic whole-tone scale" used for harmonic variety and tension. We will find many contrasts of the two whole-tone scales in the sonata, and we will also find C emphasized as a kind of home key even outside the Human Faith theme passages, along with a recurring ambiguity between C and Bb, and also the presence of Ab/G# as a tertiary, accompanying tonality. I have sometimes come close to thinking of the sonata as being in three keys at once – Ab, Bb, and C (and keep this in mind when we get to the "Tolerance" theme in Emerson) – but it seems more accurate to say that Bb is something of a "shadow tonality" to C, and that Ab has a similar relation to Bb.
To continue our inquiry, let's take a look at some signal chords of each movement, in Ex. 3.13.

Ex. 3.13 Whole-tone-plus-one chords
These chords are not cherry-picked, or lifted out of context from obscure moments. Each of them is prominent and recurring in its respective movement, instantly recognizable by anyone familiar with the score. The first dominates the first page of Hawthorne; the second comes back twice cadentially in The Alcotts; the third initiates a major theme of Thoreau; and the fourth underlies what I will call the "Nature" episode of Emerson (pp. 8-11). And, as the following correlation of pitches shows, all four chords can be drawn from the same whole-tone scale except for one note:
Hawthorne: A# D F F# G#
Alcotts: Bb D F F# Ab
Thoreau: Bb E F F# G#
Emerson (a step higher): C E F# G G# Bb
All four are dominant 7th chords with a "flat 13th," or, if you will, a raised 5th. The first two are identical in pitch, though spelled differently, and the first three have Bb as a root. The third has an sharp 4th (or 11th) in the bass instead of the 3rd D, but still comprises a whole-note collection with an added fifth. The remaining chord, from Emerson, contains all of these pitches, transposed up a whole-step to C. Clearly this chord, a whole-tone collection plus a fifth above one of the notes, constitutes important harmonic material for the entire sonata.[8] In pitch-set notation we could denote this seven-note set as [012468t], though in practice it's often not crucial where the pitch from the opposing whole-tone scale is relatively located. (I will not be using modern pitch-set notation in the following analyses. Ives's more traditional way of thinking in intervals, for instance making a crucial distinction between a minor third and a major sixth, does not call for it, and I find it inefficient and even misleading in the context of his music.) This, I've come to think, is Ives's underlying source chord for the Concord Sonata, and we will find it, and subsets of it, sprinkled throughout the work, especially at emphatic moments.[9]
Ives seems to have been fascinated by the musical fact that, if you take a whole-tone scale, plus any one note of the opposing scale, that opposing note becomes a fifth that tonicizes the pitch a perfect fifth below it. For instance, add G to the whole-tone scale on C, and the D, E, F#, G#, and Bb become – in jazz terms – a major 9th, major 3rd, sharp 11th, flat 13th, and flat 7th; or, in terms of the harmonic series, equal-tempered approximations of the 9th, 5th, 11th, 13th, and 7th harmonics respectively. Of course Ives didn't have bebop as a reference point, but I will argue later (in the Emerson analysis) that he may have been thinking in terms of the harmonic series.
In a note on the Concord that Kirkpatrick published with the Memos, Ives goes through a wonderful tirade against those who object to his peculiar enharmonic spellings. He singles out the chord given above from Thoreau (Ex. 3.13), saying that he added a G# to his Bb-major triad rather than a more conventional-looking Ab in order to prevent the reader or pianist from understanding the chord as a dominant 7th creating the expectation of a resolution to Eb.[10] He also relates his accidental notation to his own microtonal concepts of tuning:
The twelve notes in a nice well-tuned piano are "twelve notes" – machine-made almost – but at present the best instrument, that is, the widest sound implement we have, for only one man to use. But the mind, ear, and thought don't always have to be limited by the "twelve" – for a B# and a C-natural are not then the same – a B# may help the ear-mind get higher up the mountain than a C-natural always….

Some of the chords in this… I copied out and had played by six violins at Tams, playing in a kind of chord-system made – that is, assuming that a Db was nearer down to C, and that C# was nearer up to D. After the players had sensed this difference in playing the passage – say B B# C, D Db C… to me they usually sounded nearer to each other than a quarter-tone….

[W]hen this passage is played on the piano, the difference can be sensed, if not actually heard – that's the piano maker's or tuner's fault, not the ear's.[11]
Microtonality expert Johnny Reinhard (who prepared a performance edition of Ives's Universe Symphony) has argued, based on this passage and other evidence, that Ives thought of intonation in Pythagorean terms, and this passage does support that conjecture.[12] Pythagorean tuning is entirely based on pure perfect fifths of a 3/2 ratio (that is, if A vibrates at 440, then the E above it will be 3/2 times that, at 660, B at 990, and so on). In Pythagorean tuning, C# is higher than Db (as will be demonstrated in a moment), and there is a European tradition in string playing in which this is true as well – sharped notes will be played slightly high to lead into the next note upward, and flatted notes will be played slightly low.[13] One of the simplest ways of conceptualizing Pythagorean tuning is as a pair of whole-tone scales separated by a perfect fifth, each whole tone being tuned to 203.9 cents (a cent being 1/100th of an average half-step) – because a Pythagorean whole step is two perfect fifths, making a major ninth, minus an octave (mathematically, 3/2 x 3/2 ÷ 2). The tuning of such a scale, with the number of cents given of each pitch's distance above C, can be seen here:
Ex. 3.14 Pythagorean scale partitioned as whole-tone scales
The constant difference between the two lines is 702 cents, since that is the size of a perfectly tuned perfect fifth (actually 701.955…). It can be seen that Eb is 294.2 cents above C, and D# is higher at 317.6 cents, by something like a quarter of a half-step; and so on for every other equivalently enharmonic pair of pitches that would be played on the same key of the piano.
Whether Ives was thinking in Pythagorean terms or not (and this is not the place to defend Reinhard's thesis), he explicitly writes that he thinks about these slight differences in pitch when he notates, which means that his choice of enharmonic equivalents means something to him that it can't to the listener. This may account for Ives's peculiar chord spellings throughout the Concord, and particularly the tendency in several places to spell an Eb-major triad as either D#-G-A# or D#-G-Bb.[14] One thing that makes the whole-tone thesis tempting as a representation of Ives's inner thinking is that it could explain some of his peculiar, counterintuitive spelling of accidentals. (Ives also notes that a sharp "encourages, an upward movement, tonal and more perhaps spiritual," while a flat "is more relaxing, subservient, looking more for rest [and] submission, etc. – often used as symbols as such, when they're not needed as the signs of tonality in the usual way"[15]) When Stravinsky and Messiaen seemingly "misspell" common chords (such as F-D-A# in the Quartet for the End of Time), it is often a clue that they're thinking in terms of the octatonic (or "diminished") scale. Similarly, perhaps Ives sometimes spelled triads oddly because he had the whole-tone scale (or, relatedly, the Pythagorean) in mind.
My hypothesis, then, is that Ives wrote the Concord Sonata with an idea in the back of his mind of partitioning the chromatic totality between two whole-tone scales, and allowed that division to guide his sense of the work's harmonic areas. I have far more evidence for this hypothesis than I have given in this introduction, and I will adduce the rest in the course of my narrative. The Concord is not much thought of as a whole-tone-related piece, but there are many whole-tone passages and scales and chords in it. Ives's basic material, after all is the do-re-mi motive that begins the Human Faith theme and (sometimes in permutation) all of the themes in Emerson – two such motives a tritone apart complete a whole-tone scale. Certainly some of the work's tension comes from throwing diatonic and even pentatonic themes into a whole-tone context with which they necessarily dissonate. Occasionally Ives offers us a strong hint that he's thinking about such relationships, as in Ex. 3.15 from sys. 2-1, in which he packs a complete whole-tone scale, two Human Faith mottos, and an A/Eb opposition into eight quick notes.

Ex. 3.15 Human Faith mottos in A and Eb, Emerson sys. 2-1
Let me be clear from the outset: I don't mean to claim that Ives figured out a harmonic plan in advance and then wrote the Concord according to it. Ives was a phenomenal improviser, and often composed by improvising. The four movements of the Concord were not originally conceived as a single work – though this is not a heavy objection, because since Ives threaded the same theme through all four movements, and since that theme is the basis of the structure I am suggesting, he clearly altered his original materials to make the sonata a coherent whole. He well might, as he was bringing the movements together, have developed a set of key relationships that he kept in his mind while composing: a sense, for instance, that C, Bb, and Ab would be, for this piece, relatively interchangeable keys all representing a tonic function in some way, while there could be an ongoing conflict between Eb and A. It could have happened by chance; he could have organized the piece this way unconsciously; do those two explanations differ in practical meaning? Ives was, indeed, one of the least systematic major composers who ever lived. But every composer, while writing, holds in the back of his mind certain logical relationships and associations that guide the course of a piece.
Of course we don't know what went through Ives's mind, and, the Essays and Memos notwithstanding, he didn't leave us very much technical explanation. All we really have is the musical text, and our relation to it. The success criterion of an analysis, I would argue, is not whether it is right, whatever that means, nor whether it matches what the composer had in mind while composing, which is not something we can know definitively, certainly not in Ives's case, and quite often something the composer him- or herself may not reliably remember – may not have even known while composing! For me the criterion is whether the analysis is beneficial to the reader – that is, whether it sorts the myriad details of the piece into more memorable order. My analysis of the Concord has certainly done that for me. After studying the piece for 45 years, the perception I've finally had of seeing its harmonic areas in terms of the whole-tone scale on C as a "tonic scale" has helped me memorize and make sense of far more of it than I ever had before. The harmonic parallels among movements that I've found and outlined above and below, I think, are certainly intriguing. Whether the reader becomes convinced "this is how Ives composed" is ultimately less important than whether the analysis makes this ultracomplex work's form seem simpler and more vivid. Let's see – after we consider Ives's "Emerson" essay – whether it does.
Notes:
[1] Ives, Memos, p. 69, n.1.
[2] See Burkholder, All Made of Tunes, pp. 137-139 and in fact onward to p. 266.
[3] In John Kirkpatrick's Preface to Ives's Fourth Symphony and other sources, it is clear that Kirkpatrick regarded the two halves of our Human Faith theme as two different themes. Of the "two main themes" he writes: "One [this is the second half] is a complex of Beethoven's Fifth Symphony and Zeuner's Missionary Chant, which Ives… characterizes as 'the soul of humanity knocking at the door of the divine mysteries.' In the Alcotts essay, the other theme is called 'that human-faith melody.'" This is a reasonable usage and might even be more efficient for discussing Emerson and Hawthorne. But for the way the themes invariably connect in The Alcotts and Thoreau, as well as for the way they appear as a unity in the early sketches, we do not follow it here, nor do other writers seem to have followed Kirkpatrick on this, with the exception of Sondra Rae Clark, who worked with him (see Clark, "The Emerging Concord Sonata," pp. 25-26); Burkholder addresses this issue with a conclusion similar to mine in All Made of Tunes, pp. 199-200. See Kirkpatrick, Preface to Charles Ives, Symphony No. 4, Associated Music Publishers, 1965 edition, p. VIII.
[4] See Burkholder, All Made of Tunes, p. 198, Block, Ives: Concord Sonata, pp. 33-34, and Hertz, "Ives's Concord Sonata and the Texture of Music," pp.82-83.
[5] Other borrowings for this theme have been hypothesized. As a composer myself, I am more conservative than others in the attribution of "borrowings" in Ives's music unless there is either evidence in the sketches or a strong programmatic connotation to justify it; I have had my own cases in which three or four notes brought imputations of a quotation that I had no intention of having made, and that I could hardly recognize as more than random coincidence. For instance, one of the themes of Emerson has been traced to a supposed quotation from Tristan und Isolde. But what could the tragic love-death of Tristan have to do with the unsensuous Emerson? How could Wagner, not mentioned in the "Emerson" essay, and indeed not until the epilogue, and then mostly disparagingly, fit into Ives's view of Emerson, particularly in the context of the four-part counterpoint involved? The alleged intervallic resemblance remains difficult to hear even after it is pointed out, and we will provide a simpler derivation later. That Ives buried motives from other music in his works has been well established by Burkholder with reference to sketches where the evidence is clear. But musicologists less cautious than Burkholder have gone to town with such references on the slight coincidence of a few notes or a turn of phrase, and I have to think that Ives would be astonished by the implications. Besides, just because one has provided a speculative (and, aside from Burkholder's researches, probably unconfirmable) concealed borrowing doesn't mean that fewer questions remain. Why did Ives use that presumed melody? Why did he alter it just this way for this musical context? What did he gain from altering a model rather than writing his own theme? These speculations regarding Ives's composing process rarely provide any information relevant to what is heard by the listener, to explain which is our more immediate priority. Therefore, alleged borrowings cited by others that I find implausible, unrecognizable, or irrelevant will not be further alluded to here. There are only twelve pitches on the piano, their permutations are finite, and if Ives was quoting every pre-1915 piece that ever used the notes do-re-mi-la, then analysis devolves into an endless record of overlapping pitch-class sequences, reminiscent of those lists of famous people sharing the same birthday.
[6] Swafford, Charles Ives: A Life with Music, p. 179.
[7] Burkholder, All Made of Tunes, p. 350.
[8] Alexander Scriabin's famous mystic chord – C-F#-Bb-E-A-D – is also a whole-tone-plus-one subset, missing only the G# to complete its whole-tone collection, yet as a pitch set it is not identical to any of the four chords given here. We have Ives's word that he had heard or seen no Scriabin by 1921 (see Owens, Collected Correspondence, p. 59), but the coincidence is intriguing. I am indebted to Alex Ross for questioning me about it.
[9] The Concord is not the only piece in which Ives emphasized the chord; in his song "The Cage," for instance, the climactic chord, the only one not based on fourths or fifths, is a whole-tone-plus-one chord. But we will not find the chord prominently apparent in, for instance, the First Piano Sonata.
[10] Ives, Memos, p. 195.
[11] Ives, Memos, pp. 189-190.
[12] Reinhard, "Charles Ives's Approach to Intonation," http://www.newmusicbox.org/articles/Charles-Ivess-Approach-to-Intonation/, accessed Feb. 4, 2012.
[13] This is in contradistinction to the tradition of meantone tuning that Mozart and many others used, whereby C# was slightly lower than Db. See John Hind Chesnut, "Mozart's Teaching of Intonation," Journal of the American Musicological Society, Vol. 30, No. 2 (Summer, 1977), pp. 254-271.
[14] E.g., syss. 1-1, beat 12; 3-1, m.3, beat 4; 5-1, m.2, beat 4; 2-1 beat 5; 7-3,4; 19-3, m.3, beat3; 50-3, last chord; 51-2, beat 2; 59-1, beginning; and 68-5, beat 1.
[15] Ives, Memos, p. 195. As Kirkpatrick put it, Ives had a preference for sharps over flats as being "more optimistic." See Kirkpatrick, Preface to his personal edition of the Concord Sonata, second page.
All material copyright © Kyle Gann 2014