Thanks for indulging my mystery pianist contest. I was less interested in stumping the listeners than in collecting a set of comparison pianists to relate the style to. I am grateful to all who obliged.
Not surprisingly, my Downtown comrade Tom Hamilton confidently nailed the answer: it's our late friend Elodie Lauten, playing her Variations on the Orange Cycle. Elodie was not only an early punk singer, Allen Ginsburg groupie, and composer of beautiful postminimalist operas, but a phenomenal improvising pianist. I wanted to introduce a little of the end of this version, which gets wilder and more dissonant than the style she's usually associated with; the first long stretch of the recording is rather static (if meditatively beautiful), and I was afraid some people would listen to it, decide it's simplistic, and turn it off before it got more athletic. Here's the entire 40-minute recording. Made in a studio on November 21, 1991, it was "released" on a cassette (I have a slew of cassettes Elodie gave me over the years) on her private label, Cat Collectors. (I couldn't resist including her voice at the beginning.) It has since been rereleased on two of Elodie's CDs, Piano Works and Piano Soundtracks, and somehow on the former it is transposed up just over a half-step and correspondingly shorter; the cassette was more correct, because the piece is supposed to be in G, and the CD has it between Ab and A.
Pianist Lois Svard made another recording of the same piece on the Lovely Music label (with my Desert Sonata on the "flip side," in fact). What Elodie did for that, in 1995, was to play the piece on an electric keyboard into a computer, recording the MIDI output, and then convert the MIDI input to notation and give it to Lois. Anyone who has experience recording live into MIDI can imagine what a morass of irrational complexity that resulted in, so when Lois despaired of reading it, Elodie took it back and revised a lot of it by hand, though the notation is still a little cumbersome; as you can see here, the left hand alternates between G and F for a long time, but the score has the F in the treble clef, and the rhythms are a little arbitrary:

Lois's recording, only 25 minutes long, is parsed into four concise, well-shaped movements, which division greatly clarifies what Elodie's overall plan was. It makes the piece seem stronger and more compact, but I love Elodie's 1991 recording as well for being a little more all-over-the-place and stream-of-consciousness.
I was afraid the pianist's identity might be guessed by those who read my blog closely enough to remember that I will be giving a paper, "Elodie Lauten as Postminimalist Improviser," at the upcoming minimalism conference in Torku and Helsinki, Finland. The bulk of my paper will be on two pieces of which I have two quite disparate recordings, the Variations on the Orange Cycle above, and her Sonate Ordinaire of 1986 – which I reviewed in one of my first Village Voice columns. I have two of Elodie's recordings of the latter, one an undated cassette copy and the other from Piano Soundtracks, in a performance dated 1986. The former is 17 minutes long, the latter 23, and they're quite different in form, though distinctly similar in material. The piece's main material is based on a kind of chromatic sequencing that also appears in the 1991 version of Variations, but not the 1995: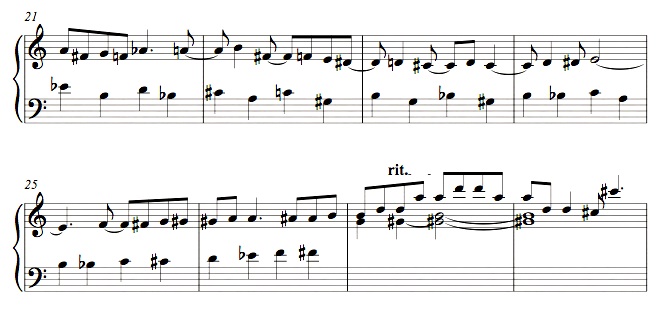 At one point I had hoped that I could prepare an entire performance score for either version of the Sonate Ordinaire, as I did for Harold Budd's Children of the Hill and Dennis Johnson's November, but this is looking doubtful; overlapping chromatic lines in the piano's deep bass are hard to disentangle, and some passages have such rapid flurries that, even electronically slowed down, I don't know whether I can decipher all the notes with any certainty. As you can see, the rhythmic aspect of most of the piece is straightforward, and I will transcribe what I can. I might also include Elodie's Adamantine Sonata of 1983, which I don't have alternate versions of, but I've already transcribed the one I have.
I am fascinated by how Elodie could have such a distinct sonic identity for each piece and still introduce so many major deviations from one performance to another – and keep such large structures in her head. Also, there are strong postminimalist traits to these pieces – the first Orange Cycle variation is entirely in G mixolydian, the second mostly in Phrygian, and the Sonate Ordinaire keeps up a steady pulse momentum for most of its length. Postminimalism is a style that has not been conducive to improvisation, and I'm hoping to get inside Elodie's head and figure out how she conceived the music. I keep thinking I can just call her up to ask questions, and it's too late.
As always, I will print no comments disparaging another person's music showcased on my blog, especially for someone so recently deceased and sorely missed. If you feel a need to put it down, ask yourself why.