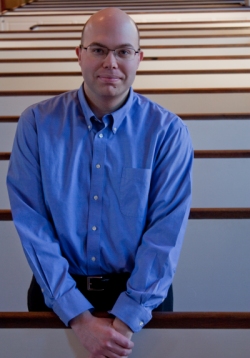 Carson Cooman, Harvard organist, musical polymath, and extraordinarily prolific composer, wrote to me a couple of weeks ago after reading my blog and asked if I'd ever reconsidered writing something for organ. It was something we had talked about long ago. In the mid-1980s my friend Gerhard Stäbler, German political composer and also an organist, had told me if I ever wrote something for organ he'd play it. I had tried, but the medium defeated me several times. As much as I love a lot of music that uses drones, I had never come up with a good strategy for employing drones myself, and the organ's capacity for endless ones tempted me too far, so that I was in danger of trying to write a piece that was basically all one chord.
But this time I had just been playing the end of my instrumental suite Catskill Set, which closes with a chord that I found attractively poignant: from the bottom up, and voiced only this way, Eb, Ab, Gb, Db, F. The great thing about getting commissions is that the moment someone expresses an interest in my writing something, a musical image springs into my mind and I can frequently hear the piece before they've finished asking the question. In this case I realized that that voicing would sound lovely on organ – large intervals, no seconds, with the smallest interval on top – and that by putting the lowest (and thus hardest-to-reach) note in the pedals I could weave chromatic counterpoint around a long series of such chords. Carson also gave the perfect invitation: "For some time," he wrote, "I've imagined broadly in my mind a extremely nice Gannian organ piece in your quiet, beautiful, tranquil/gentle vein. No particularly significant dynamic or timbre change, but just happening." He also cautioned me against the first-time organ composer's amateur mistakes of trying to get too fancy with the pedal work and using all the instrument's bells and whistles in one piece. Given my habitual style, they were hardly miscalculations I would tend toward, but it was a good recipe for writing an effective organ piece. In the next eight days, two of them snow days in which leaving the house was hardly an option, I sketched out a fifteen-minute piece escapistly titled Summer Serenade, and then spent another week revising it. For me, that's very fast composing; for me to write so much in mid-semester and around class-teaching is just about unheard-of.
But I am as a snail compared to Carson. I sent him the score yesterday, and he, with his tireless and endlessly competent steamroller energy, recorded it last night. He noted that the copy I sent him had no dynamics, and that he presumed it was to be soft throughout. Actually, while I think mezzopiano on a little Baroque organ is probably better in general, I could also hear in my mind the charms of a very loud church organ, the latter preferably heard from several blocks away. And so, mirabile dictu, he recorded both versions for me. I strongly recommend that to listen to the soft version you plug your computer into a sound system with decent-sized speakers, because the bass drones are very low, inaudible through my computer speakers. And to listen to the loud version, I recommend that you turn it up really loud, leave your door or windows open, and stroll down to the end of the block.
(The entire music composition world will be unanimous in its mandate that I MUST DECIDE what dynamic the piece should be played at, and notate it as such – and the entire music composition world can go suck an egg, and I mean just one egg, which they can pass around, just as they all suck their received wisdom from the same teat.)
Spoilers follow, so the easily influenced might want to listen before reading further. Summer Serenade uses a form that I've been gravitating toward and using more explicitly lately, which I call "relenting minimalism." That is, the bulk of the piece seems austerely static, but simmering beneath the surface is a melody which finally, after the static part climaxes in some way, emerges, mediating an apparent disjunction between modernist strangeness and tuneful "normalcy." "Rewarding the listener," if you will. More technically, there are nine chords in the piece, transposed to seven keys chromatically from D to Ab (the pedal notes), and they are fairly similar: either minor, dominant, or major seventh chords with various added notes. So the piece's romantico-minimalist wall-of-sound stasis is more or less built up bebop-style through a series of modulating ii-V and ii-V-I progressions, with added notes contributing to the smooth voice-leading. I do delight in using familiar musical materials in unfamiliar contexts, another thing about my music that composers commonly object to. The PDF score is here.
And I'm very grateful to Carson for his advocacy and numerous superb talents.