Is there a Foodie Backlash?
Food culture is
our
culture. This Saturday's national papers here in Britain are stuffed full of food - Nigella's on the cover of one of the magazines, recipe supplements tumbled out of a couple of others, and god (or Bacchus) alone knows what Sunday's papers will bring. There was news from America this week that the lawyers who sued and won millions in damages against Big Tobacco ten years ago are now targeting junk food manufacturers, and suing Big Food for wrongly labeling products and ingredients.
Anyone reading this is surely aware that we live in an era when what and how we eat is a worry for everyone, whether we're the unfortunate many with too little to eat, or the fortunate minority with too much choice in the matter. We, mostly Western, increasingly fat, few acknowledge that we have a moral duty to worry about the hungry masses. But we are also aware that we have turned the biological imperative to feed ourselves about three times a day into an obsessive pastime - we've made a hobby of our necessity.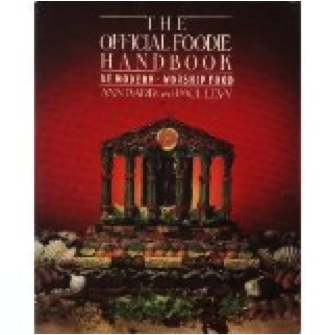 Yes, there's treviso in the supermarkets and trombone squash in the kitchen garden; it's been a poor year for apples, but the agretti crop has failed too. We eagerly wait to learn the price of this season's truffles. And London is the restaurant capital of the world - who'd have believed it during the Swinging Sixties, when London was merely the world's sex, drugs and style headquarters? If you were to judge by what dominates the television schedules, manic cooking has replaced sex as our national entertainment.
Are we all foodies now? This might not be such a good thing. "Foodies," someone once wrote, "are all palate, with a vestigial person attached."
Actually, I wrote that, with Ann Barr - in our 1984 "The Official Foodie Handbook." I happened recently to hear Fay Maschler on "Woman's Hour" talking about our book. She was discussing whether there has been a "foodie backlash" with Steven Poole who on October 18th published "You Aren't What You Eat: Fed Up with Gastroculture."
Mr Poole's frequent appearances are stirring up a tasty fuss; but he seems to be avoiding mentioning our names.
Why? He's done his homework and knows that our best-seller grew out of a 1982 article, "Cuisine Poseur," in Harper's & Queen magazine, and that we coined the word "foodie" in that article (just pipped at the neologism-post by New Yorker Gael Greene in 1980).
(He doesn't, I think, know that I wrote and compiled the unsigned 1982 article. At that time on H&Q we often put articles together with help from readers - and this time it fell to me to deal with the large manila envelope bulging with their contributions. Many of them were near-actionable assaults on me- "greedy, guzzling king of the gastro-pack" was typical, and of course I included the worst of them. The lawyers for the publishers got frosty toes at the last minute, and refused to okay it until I signed a disclaimer saying I wouldn't sue - myself, I suppose - for libel.)
Mr Poole cites our book repeatedly, and has the grace to admit that we spotted the trend early on, and that our intent was satirical - though it also served as a guide to how to be a foodie (it is, after all, a Handbook). I don't think it's just bad manners. It's that Mr. Poole wants to argue that foodies' (he calls them "foodists" - as in "homosexualists"?) concentration on food, cooking, restaurants, agricultural practices, and so on, is extreme. We did not downplay the excess. Barr and Levy: "The unexamined meal is not worth eating"; "Be modern - worship food;" "Food is the frontier to be on;" "Couture has ceded the centre ground to food;" "You know what exercise is for - to give you an appetite."
In fact, we observed that "I am a foodie" is as proud a boast as "Civis Romanus sum": what they both mean is "I am a winner."
Well, it's 2012, and Mr. Poole naturally doesn't want to call attention to the fact that we anticipated most of his arguments in 1984. Which would be fair enough, except that we missed something crucial - the ethical strand of foodism. Mr. Poole thinks this is insincere, and dismisses the organic movement, campaigns for sustainable agriculture and fisheries, locavorism, animal welfare concerns - the whole ethical package.
The terrible Ethiopian famine that began in 1983 was finally noticed at around the time of the 1984 launch of the Foodie Handbook (and led to the launch of Band Aid the next year). Some felt it was obscene to tease the overfed, and objected to the book - though few of the pop-star righteous ever learned the lesson taught by Nobel Prize economist Amartya Sen, that "there has never been a famine in a functioning multiparty democracy."
The Ethiopian tragedy, anyway, did not lead directly to foodies reexamining their relationship to the environment. The Handbook had recognised the "Whole-foodier than thou" type, but didn't appreciate the dawning significance of those positive developments associated with words such as "organic," "free-range," "local" and "sustainable." Mr Poole concurs that there's no possible reason for refusing to eat organic food or for opposing sustainable agriculture, but insists it all boils down to "so-called ethical consumerism," and that "simply shopping differently is not going to be the answer." He even seems to think consumer boycotts don't work. What about those UK supermarkets that no longer sell battery eggs or chickens?
Thanks to the foodie vanguard, most of us are now aware of endangered fish stocks, environmental damage caused by food production, our carbon footprints, the obesity epidemic - and who wouldn't prefer to eat in a "sustainable" restaurant if given the option? We have to hope that foodies will eventually make us realists, like the French and Italians, willing to pay a higher percentage of our disposable income for our food.
Mr Poole is a million food-miles away from identifying the real problem: our insatiable appetite for cheaply priced food. Poor crops this year mean world food prices are rising. But our food is not really cheap anyway - not if you include the externalities, such as the cost of cleaning up after industrial farming, and the cost to the NHS of our poor diet. At the moment these costs might seem to be paid from a different pocket; but it's the same pair of trousers.
It's to their great credit that most foodies appreciate this, and care about it. They are not egregiously extravagant, but realistic about how much they pay for their food. Maybe it's unfashionable to say so, but foodism is good for us and for the planet.