Celebrating all the wrong people
"We seem to be a society that celebrates all the wrong people."
Who said that? The wisest man in Britain today, Iain Duncan Smith, once caretaker leader of the Conservative Party, Work and Pensions Secretary in the current government. He chairs the cabinet social justice committee, and what he has to say about the summer urban riots is full of good sense.
In an interview with the Guardian of 9 December Duncan Smith had the guts to blame the riots on celebrity culture. Children, he said, are regarding contestants on the degraded TV programme The X Factor and doltish Premier League footballers as role models. His point is simple and obviously true: British kids think success in life is achieved by being one of these undereducated yahoos, rather than by hard work. "Kids," he said, are meant to believe that their stepping stone to massive money is The X Factor. Luck is great, but most of life is hard work. We do not celebrate people who have made success out of serious hard work."
There's something in common - besides lack of taste - between the talentless who win The X Factor and the banksters with their undeserved giant bonuses, namely being rewarded incommensurately for the amount of skill and work involved in the performance.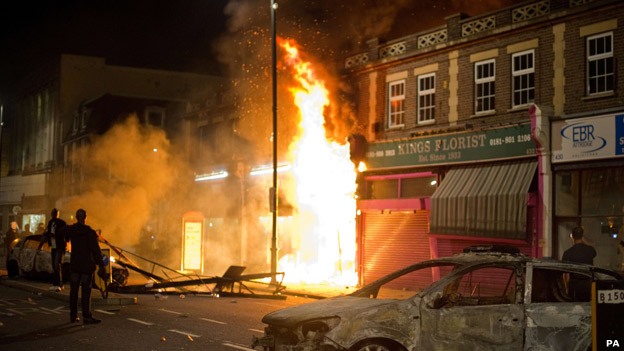 The problem is that kids want stuff - of the sort they see the tone-deaf pop stars, educationally subnormal footballers and gangsta banksters wallowing in. It's not merely that this new economic elite has no moral sense, it also has no taste. So the "stuff" they flaunt before these poor kids who can't read and can scarcely write their own names - "designer" goods, electronic gadgets and all the rest of the expensive rubbish looted from shops - has little intrinsic value. (OK, I admit I covet the giant-screen TV sets and home entertainment systems we saw some of the looters carrying off down the meaner streets of London and other big cities.)
Because the people this young social-media-alerted mob are emulating haven't themselves done any genuine work to own these trophies, the rabble feel a sense of entitlement themselves. They want these baubles, and they want them now. During the riots safety of the crowd was all that was required to get them.
This is a pessimistic view, of course. The world is in recession. We middle class wage-earners can't really afford to educate other people's kids as they deserve to be educated. But if we don't, we will have a generation where the majority is unlettered, enumerate, amoral and so lacking in taste that our institutions of high culture will find their audiences shrinking to the point where the museums, galleries, theatres, opera houses and concert halls will have to close their doors.
Yes, it's frightening, and Duncan Smith sounds very like an Old Testament prophet. Speaking about the special difficulties facing boys today, he says:
"It becomes a problem for boys in that the only male role model they do see is the deeply dysfunctional guy with sinning hubcaps that teaches them, 'All you need to succeed is guts, not qualifications'."
There is a faint shimmer of hope. The "celeb" magazines appear to be losing circulation. Maybe one day "celebrity" will be a boo-word, and people will once again be celebrated for what they have achieved, rather than for their absence of talent, taste and moral capacity.
(Diverting footnote: I intended to end this post "Whenever I hear the word 'celebrity' I reach for my revolver." But when I checked the quotation I thought I was parodying for the correct attribution, I discovered - from Wikipedia:
"Whenever I hear the word 'culture' I reach for my revolver."
The actual quote is "Wenn ich Kultur höre ... entsichere ich meinen Browning!" This translates as: "Whenever I hear [the word] 'culture'... I remove the safety from my Browning!"
This quote is often mistakenly attributed to leading Nazi Hermann Goering, or occasionally to Julius Streicher, a lower-ranking Nazi. This misattribution may date from the famous Frank Capra documentaries (Why We Fight) shown to American troops before shipping out.
In fact, it is a line uttered by the character Thiemann in Act 1, Scene 1 of the play Schlageter, written by Hanns Johst. The association with Nazism is appropriate, as the play was first performed in April 1933, in honour of Hitler's birthday.
Baldur von Schirach, head of the Hitlerjugend, delivered this sentence in a public speech, circa 1938.)