Fairy Tales of Birmingham
It's not every day that I'll take the trouble to go to Birmingham to hear a piece of contemporary music - or to do anything else, as the train fare is 20 per cent more than the fare from Oxford to London (though the distance is smaller), and as my wife refuses to drive in Birmingham because of its diabolical navigation difficulties. Despite having to share our carriage on the return leg with a gang of totally hammered public school boys with cut-glass accents pretending to be proletarian lager louts - a charming, if baffling aspiration - it was worth the journey. For we were at the world première performance of "Rumpelstiltskin: A grotesque fable for our times" by the Birmingham Contemporary Music Group, the score composed by David Sawer and directed by Richard Jones.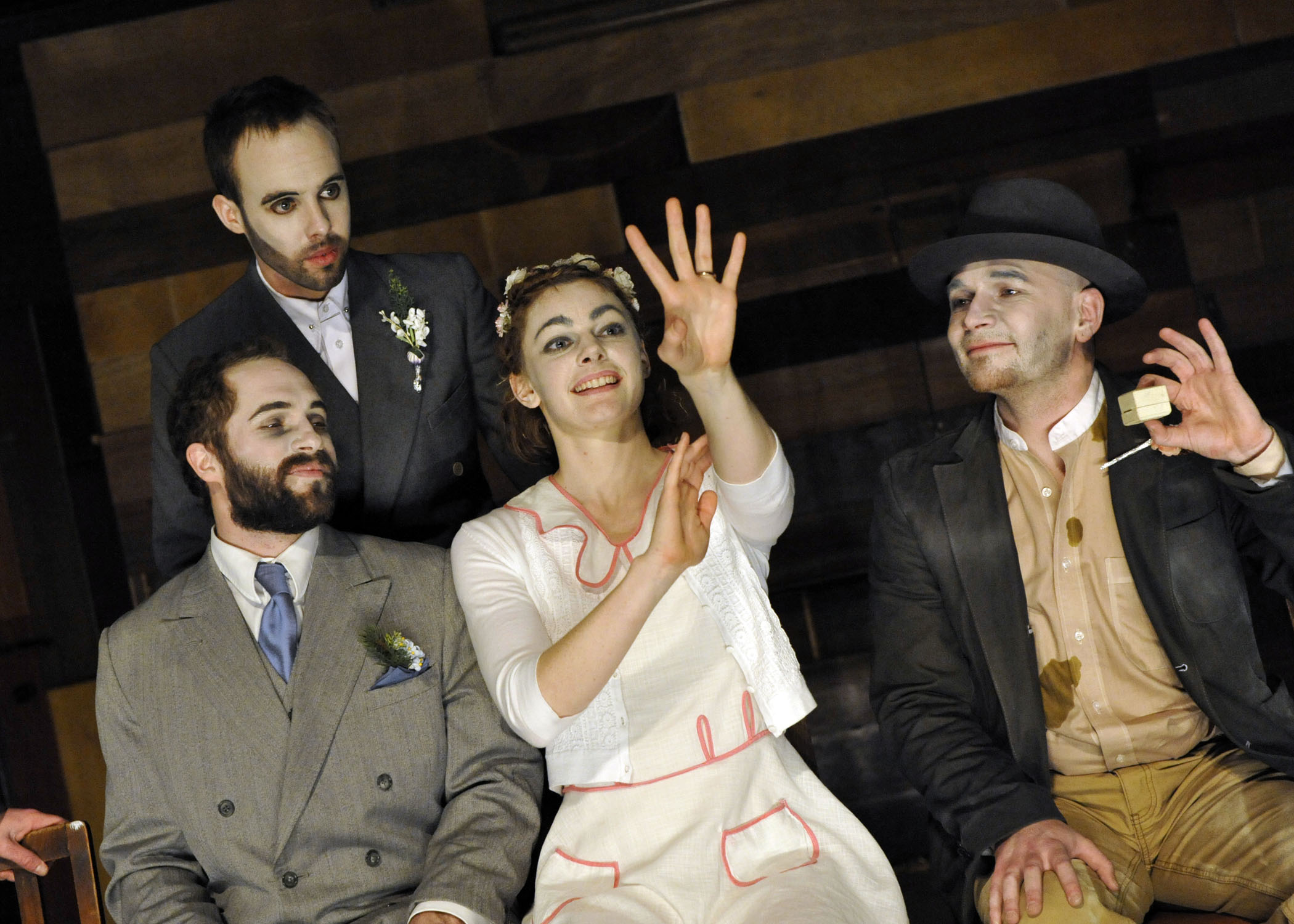 I have to confess that because of Richard Jones, I (and at least one other critic, an opera specialist) were expecting this Rumpelstiltskin to be an opera - or at least have some singing roles. Wrong. It was a strange and wonderful hybrid of chamber music and music for a 13-piece orchestra with non-speaking or singing roles for seven dancers, who danced very little, but emoted and mimed a great deal. Many of the musicians were made up, or costumed, and formed part of the spectacle.
In the vast rehearsal space of the Birmingham Symphony, Martyn Brabbins conducted the basic band at stage right, while a harp stood with three music stands at stage left; these were occupied sometimes by a string trio, sometimes by various other combinations of instruments, including at one point a bass clarinet. Mr Sawer had composed various chamber numbers for them, sometimes stand-alone, though usually integrated musically with the larger ensemble. Three musicians at a time, some of them face-painted would leave the orchestra, make a ritual promenade around the chamber music area, take their seats, play a few bars (or a few pages), then circle the area again on their way back to the bigger band. Oddly enough, this was not annoying, but simply seemed to be one of the harmless rules of the production.
Stewart Laing had designed an ingenious wood cabin with a sliding front wall as the miller's house, and all eight scenes were enacted in and on it. I have also to confess that I confused my fairy tales beginning with the letter "R", and kept waiting for the miller's daughter to let her hair down, but soon realised that she, with the help of a demon of restricted growth, was spinning straw into gold.
Though only Mr Jones as director, and no choreographer or movement director is credited, there was constant, energetic movement, verging on dance - though never quite tipping over into it because the narrative element was paramount, and Mr Jones required some stylised awkwardness of his cast. If they did not exactly dance, they certainly did act. Without exaggerating their gestures too much, the young troupe displayed, not just a decent-sized repertory of emotions, but also harder-to-convey attitudes such as irony, teasing, flippancy and exasperation.
Of course this was brilliantly underpinned by the music. Mr Sawer's score was in a modern idiom, but easy to comprehend - and easy to love, melodic in an early-Schönberg, post-Stravinsky-classical period way. It would be interesting to hear a recording of the piece; I have a suspicion it doesn't work on its own, without the actor/dancers and the set. Yet it makes a very satisfactory whole - perhaps Mr Jones and Mr Sawer are to be congratulated an achieving a paradoxical Wagnerian Gesamtkunstwerk without the operatic element.
One aspect that is not so satisfactory is the purport of the subtitle: "A grotesque fable for our times." Yeah, we get it, making gold from straw is a Ponzi scheme, the miller's a Bernie Madoff, and all the rest. As a theatrical scheme this is already getting tired - we've had "Enron," we've had the latest David Hare play, and half a dozen other productions that I'm too lazy to Google. Last week we had (a completely valid) "Bluebeard" as Josef Fritzl, and I expect to see many more productions pushing that set of buttons. True originality ought really to take us beyond the headlines of yesterday's newspaper.
The production tours in November to the Tramway, Glasgow and Bates Mill, Huddersfield - too few venues and for too short runs. "Rumplestiltskin: A grotesque fable for our times" would surely draw audiences for a week or so at Sadlers Wells or the Barbican.