That boy's magic horn
Tired of commuting to London for my daily culture-fix, it was wonderful to drive only as far as Oxford last week for the opening of the 2008 Oxford Lieder Festival,

www.oxfordlieder.co.uk

. This is the brainchild and labour of love of Sholto Kynoch, a charismatic song accompanist and chamber musician (the pianist of the new Phoenix Piano Trio, who will be performing the Beethoven trios in 2010). Interestingly, for me at any rate, the opening recital of songs from Des Knaben Wunderhorn was given at the Jacqueline du Pré Music Building of the formerly all-female St Hilda's College.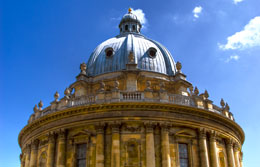 Shamefully, because it's been there for several years, this was the first time I'd ever been to the building. It's not easy to find, as you have to schlep through the college to arrive at its wide expanse. My wife, who's been in high summer, says it's torture to go to a concert there when the mercury's rising, as it's a heat trap with no air-conditioning. It was perfectly comfortable in October, though the architecture seems awfully quirky to me. But I found the acoustic a bit too bright for singers and piano only. It might work better for larger chamber groups, even string quartets.
But the evening's lovely mezzo-soprano, Rowan Hellier, couldn't find her voice's volume control, and gave us a bit too much of what she's certainly got. Baritone William Berger had no dynamics problems - he could manage his
ppp
s as well as his
ff
s, and the room seemed better suited to his warm voice than to hers.
The delightful programme contrasted songs from the collection made by Clemens Brentano (1778-1842) and Achim von Arnim (1781-1831) of these disparate folk verses, in settings by Schumann, Mendelssohn, Christian Sinding and Brahms, with the more famous ones by Mahler. A pre-recital lecture by Richard Stokes allowed us to hear several historic recordings of many of these. On the basis of listening to them I concluded that much of the - not fault - but slight defect of Ms Hellier's performance was that her voice was often placed wrongly. She has a lovely, pleasingly warm middle and lower register, and a clear, strong upper register; but she was using her chest voice for the most part, and large sections of many of these songs, especially the Mahlers, need to be sung, with the highest notes floated softly, with the head voice. Or so it seemed to me. I wonder what the most usual practice is?
Full marks, though, to Mr Berger and Mr Kynoch. It was a very imaginative programme, and I'd go to hear it again. Oh, and I learned from one of the Schumann songs that the German for "ladybird" (or "ladybug" in America) is
Marienwuermchen.
Why?